10 Best Coffee Shops in Long Beach, California (2023)
Last Updated on September 30, 2023
If you find yourself in Long Beach, California, and need your daily caffeine fix, you're in luck. A very popular coastal city in Los Angeles County (down south), the city is home to so many amazing breakfast spots, rooftop bars, pizza joints, lounges, burger stops, culinary heavy-hitters, and of course, ridiculously good coffee.
There are tons of amazing coffee shops to choose from, regardless of your personal taste preferences.
Whether you're a digital nomad in search of a productive and well-lit workspace for a coffee-fueled grind session or simply a coffee lover (addict) seeking the perfect cup of joe, this city truly has something for just about everyone.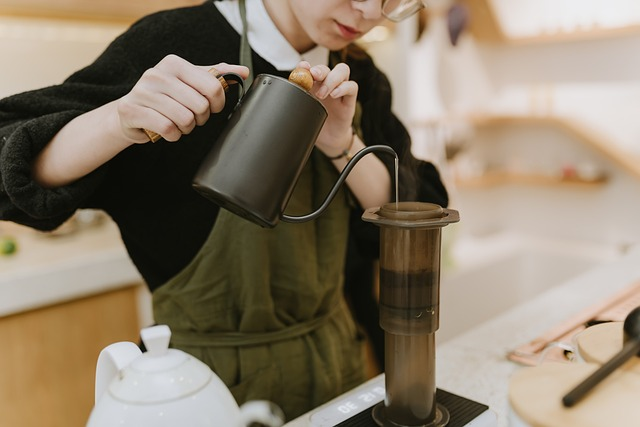 In this guide, we'll take a look at the cream-of-the-crop coffee shops in LB, highlighting their unique offerings, what their ambiance is like, and what sets them apart. So chug an espresso shot or two, sit back, and let's dive into the best coffee Long Beach has to offer.
1. Aroma di Roma Cafe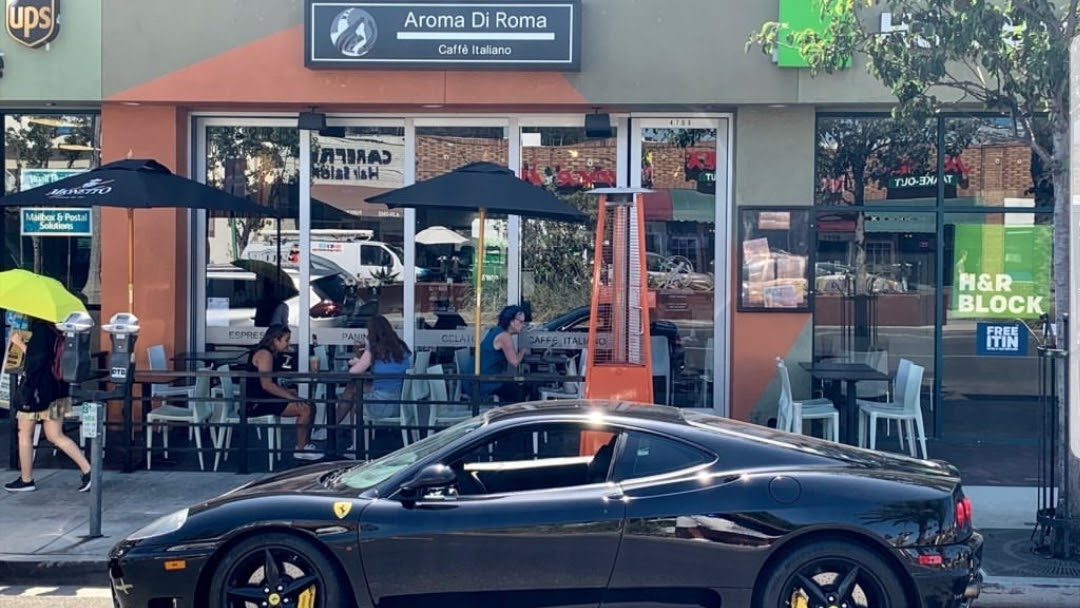 Located on Long Beach's bustling 2nd Street, Aroma di Roma Cafe is one of the most well-known and beloved local coffee shops in Long Beach that has been serving up premium coffee for years. This small modern coffee shop is nestled among other shops and offers a cozy and intimate setting for coffee lovers.
At Aroma di Roma Cafe, you'll find an extensive selection of premium coffee blends and seasonal drinks, as well as their own specialty drinks. Don't miss out on their Activated Charcoal Latte or their unique turmeric drink for a truly novel experience.
Pair your beverage with their delicious breakfast or lunch options, and you'll be fueling your day in the best way possible. It's just what we all need for those mornings that feel like a drag.
Address: 2nd St., Long Beach, CA 98003
Website: Aroma di Roma Cafe
2. Rose Park Roasters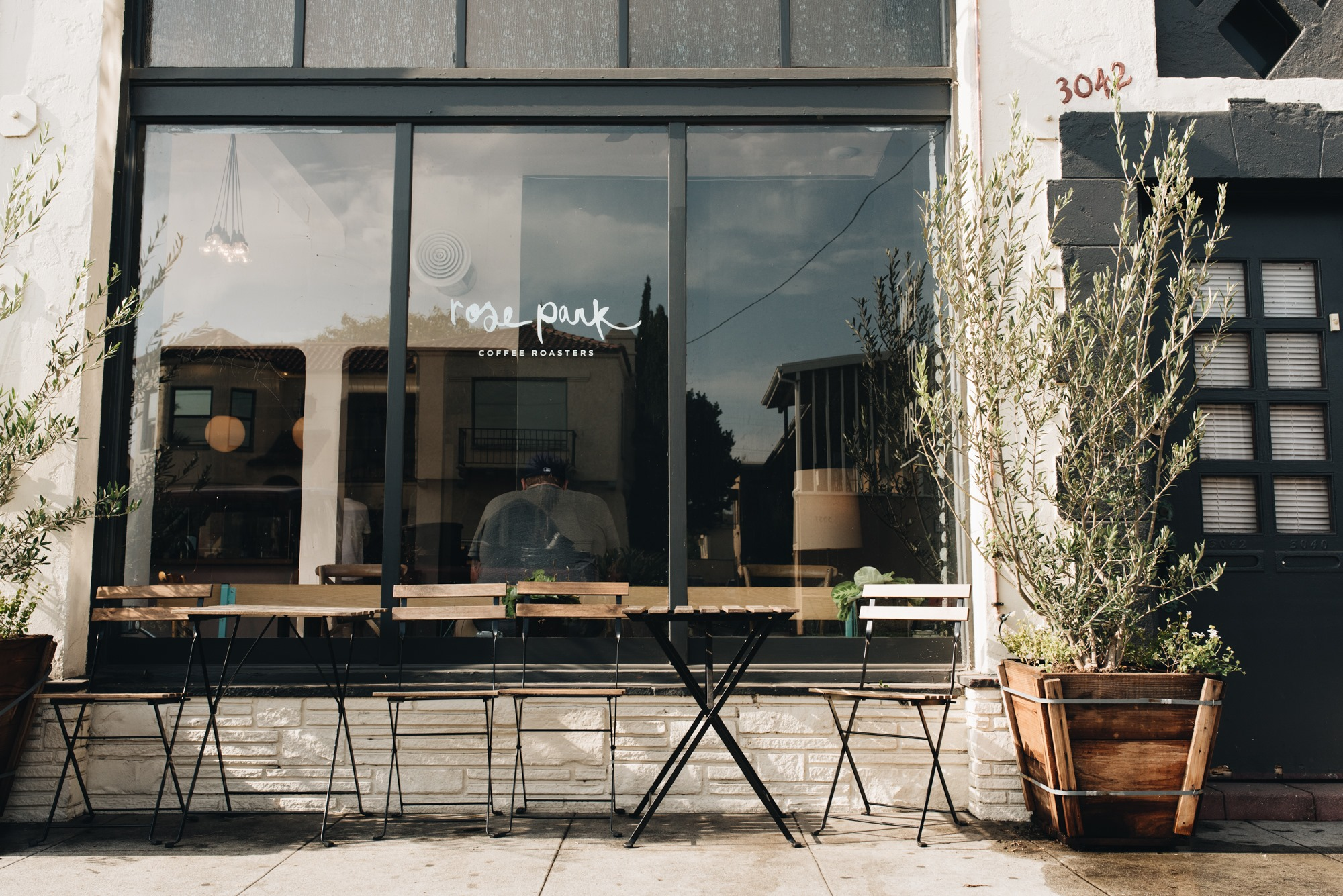 For true coffee connoisseurs seeking a creative and welcoming experience, Rose Park Coffee Roasters is a must-visit. This popular Eastside cafe is known for its outstanding coffee and the beautiful mural adorning its exterior.
Step inside Rose Parks Roasters, and you'll be greeted by a relaxed and casual atmosphere, complete with wooden furniture, bar-height seating, and foliage hanging throughout. This makes it one of the best Long Beach coffee shops for focused work or catching up with friends.
Alongside their amazing premium blends, they offer a variety of specialty coffee drinks (like the maple lavender latte or cold brew) and snacks to keep you satisfied throughout the day.
Address: 3044 E 4th St., Long Beach, CA
Website: Rose Park Roasters
3. Tierra Mia Coffee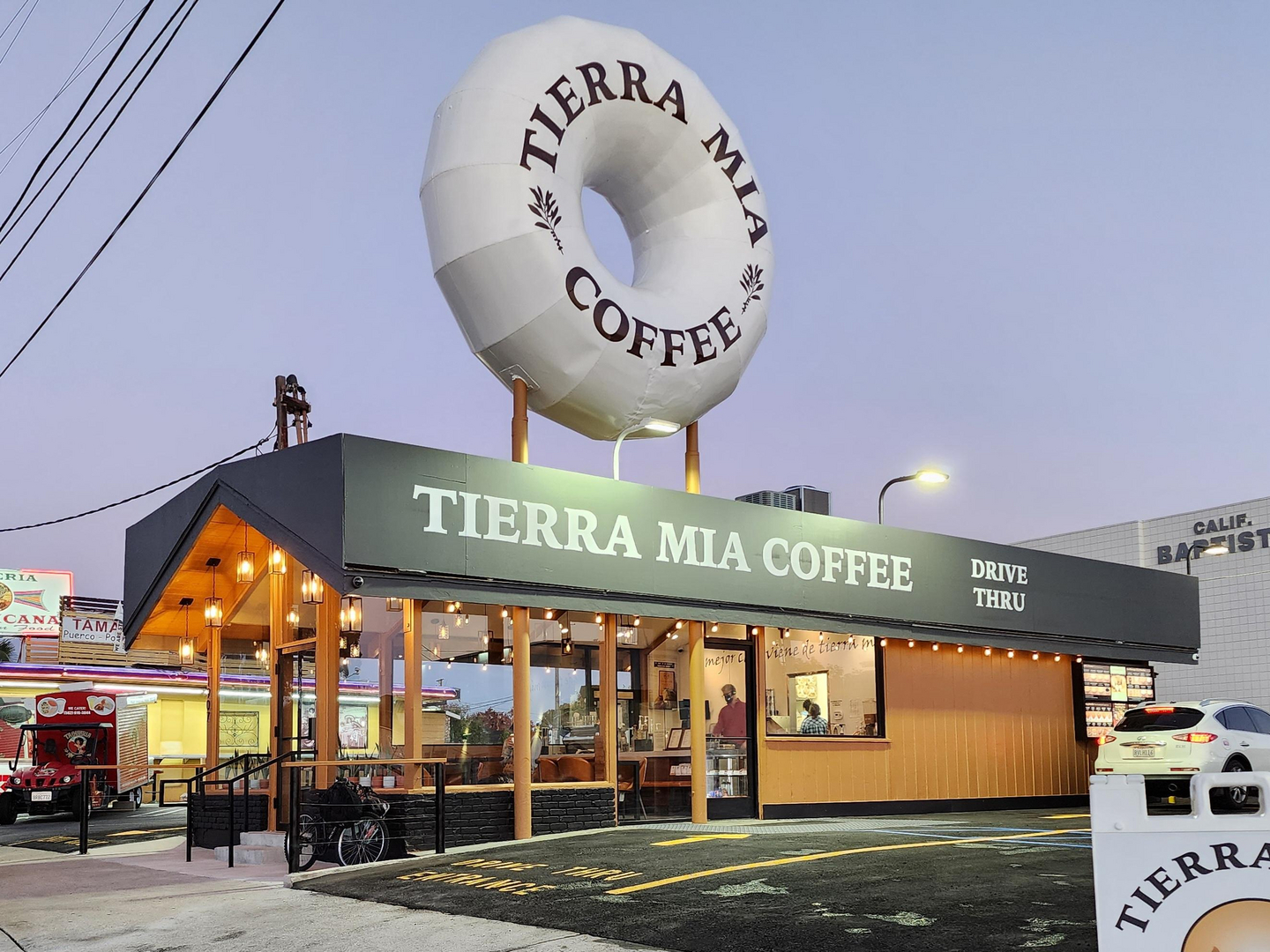 Tierra Mia Coffee is a popular coffee brand with several coffee shops located throughout Southern California. Known for its strong and flavorful java, Tierra Mia is a go-to spot for many locals and visitors alike.
Convenience is key at Tierra Mia, with a drive-thru option available for those on the go. Don't miss their caramel macchiato, and be sure to try their chocolate and guava croissants for a delightful treat. The knowledgeable staff is always ready to guide you through their menu of breakfast dishes and beyond, which includes uniquely named brunch items.
Address: 425 Pacific Coast Highway, Long Beach, CA 98006
Website: Tierra Mia Coffee
4. The Library Coffeehouse
Looking for a cozy and laid-back coffee joint to escape to? Look no further than The Library. Nestled on E Broadway, this charming coffee shop offers a sanctuary for rainy days or quiet study sessions.
It's truly one of the favorite Long Beach coffee shops amongst digital nomads, students, and casual coffee drinkers alike.
The Library boasts a unique atmosphere with large colorful sofas, rows of tall bookshelves, exposed brick, trendy light fixtures, and unique wall art throughout. It's the perfect spot for diving into a good book or getting some last-minute done (procrastinators unite!).
Open until midnight every night, this shop caters to late-night study sessions or casual hangouts with friends. Their menu items include a nice coffee selection (try the Leprechaun Lipsmacker), teas, baked goods, and a selection of breakfast and lunch options.
Address: 3418 E Broadway, Long Beach, CA 90803
Website: The Library
5. Recreational Coffee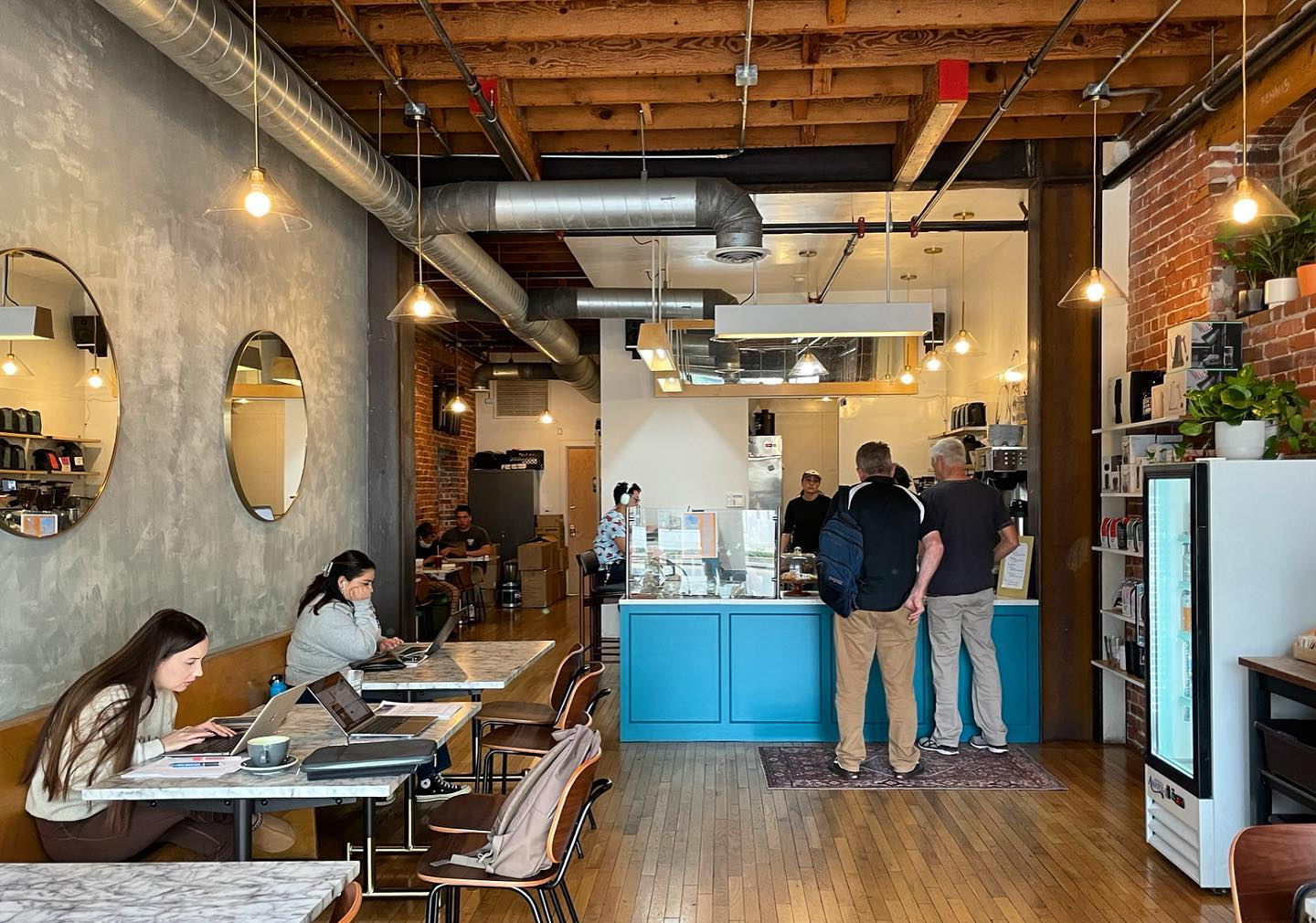 Recreational Coffee is one of the most popular coffee shops in downtown Long Beach that effortlessly combines high-quality coffee with a chic-meets-hipster vibe. With a perfect central location, this cafe is a favorite among college students and Instagram (or are we on the Threads train now?) enthusiasts.
At Recreational, you'll find an extensive menu of coffee blends made from the finest-quality coffee beans. They offer familiar drinks like cold brew, espresso shots, americanos, lattes, and cappuccinos, as well as more unique cups such as the almond orgeat latte and hoppy iced coffee. The shop also serves up several small food plates and pastries to satisfy your midday hunger pangs.
Their relaxed atmosphere makes it the perfect spot for a morning pick-me-up or a mid-day recharge. Take advantage of their extensive food menu and their online ordering system for quick and convenient pick-up as well.
Address: 237 Long Beach Blvd, Suite A, Long Beach, CA 90802
Website: Recreational Coffee
6. Steelhead Coffee
For those seeking a quieter and more intimate coffee shop experience, Steelhead Coffee is the ideal destination. This hidden gem, which also runs its own coffee bean roasting business, is tucked away on Long Beach Blvd and offers a cozy and quaint setting for coffee enthusiasts.
Steelhead Coffee may be small in size, but it makes up for it with its high-quality coffee and friendly service. Whether you're looking for a quick morning stop, an afternoon reading spot, or a lunch date, Steelhead Coffee has you covered.
Their menu includes all the essentials, from cold brews to hot vanilla lattes.
Address: 3768 Long Beach Blvd, Long Beach, CA 90807
Website: Steelhead Coffee
7. Philz Coffee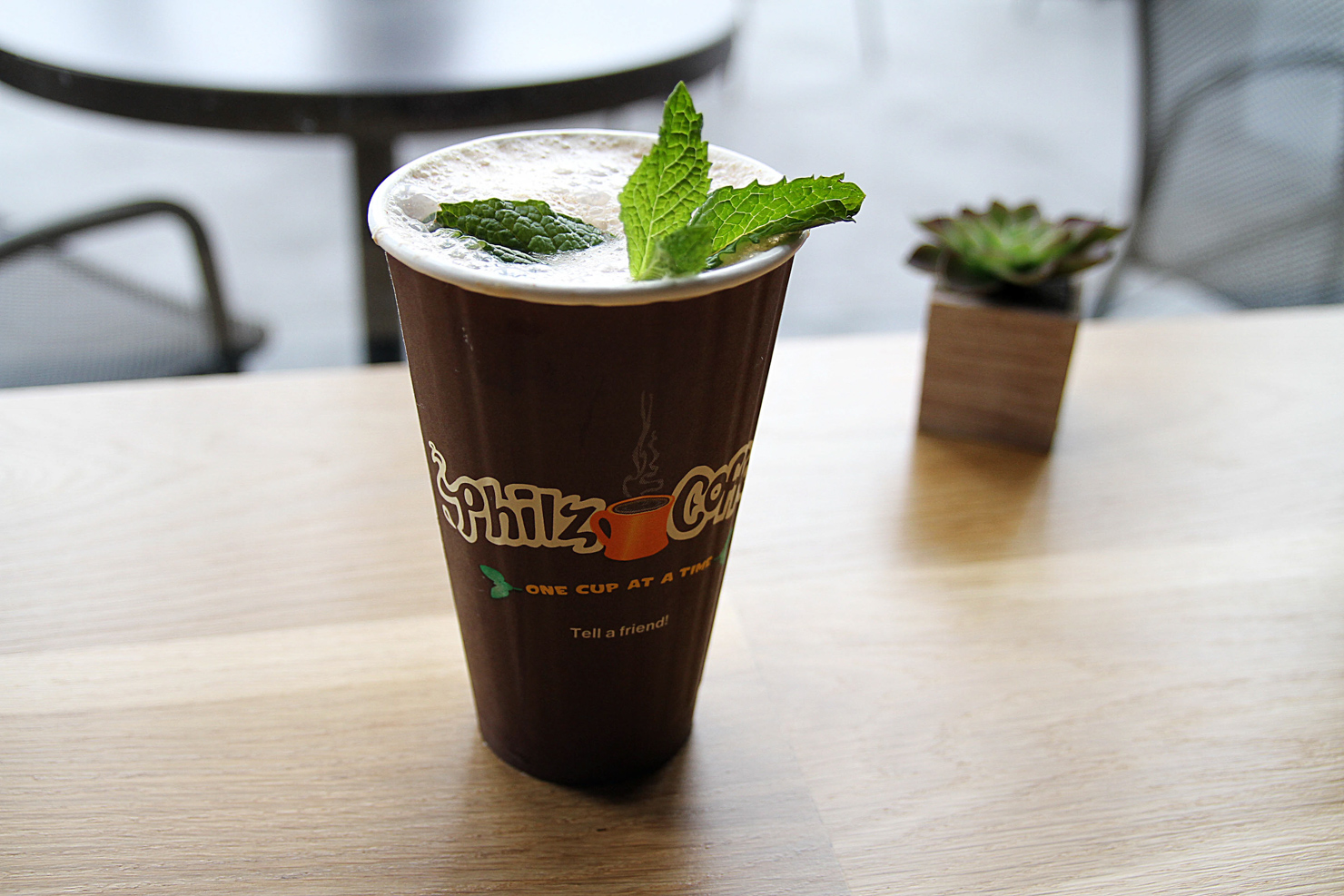 Philz Coffee is a chain of shops that are all about the art of coffee. Located on 2nd Street, this coffee shop is committed to providing excellent coffee, even if it means sacrificing the usual mochas and lattes. Their menu is full of traditional and premium coffee blends that are sure to satisfy any coffee enthusiast.
Philz Coffee offers a pleasant atmosphere with friendly staff and plenty of natural light. It's the perfect place to try different coffees and explore their unique flavors.
With tons of seating available, you can comfortably enjoy your cup of coffee while immersing yourself in the lively ambiance of the city.
Address: 4801 2nd St., Long Beach, CA 98003
Website: Philz Coffee
8. Wide-Eyes Open Palms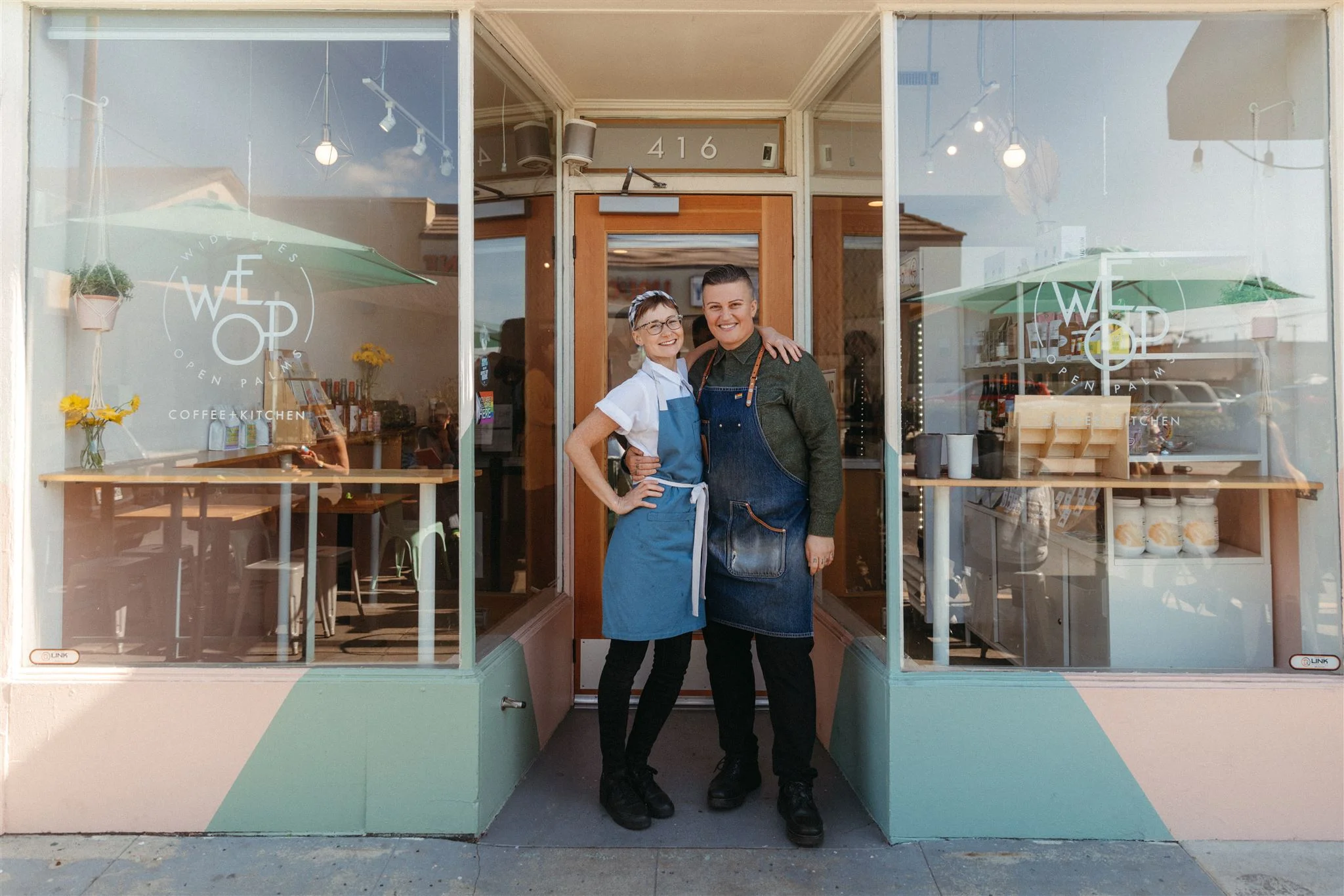 Wide-Eyes Open Palms is a charming coffee shop that prides itself on serving cups of java with love. This friendly environment offers a wide variety of premium and traditional coffee blends, sourced from local growers.
In addition to their delicious coffees and teas, they also offer a range of breakfast and lunch items made from locally sourced salads and grains. The small and intimate setting provides a cozy and welcoming space for coffee enthusiasts to enjoy their favorite brews.
Address: 416 Cherry Ave., Long Beach, CA 98002
Website: Wide-Eyed Open Palms
9. Wolf's Brew Coffee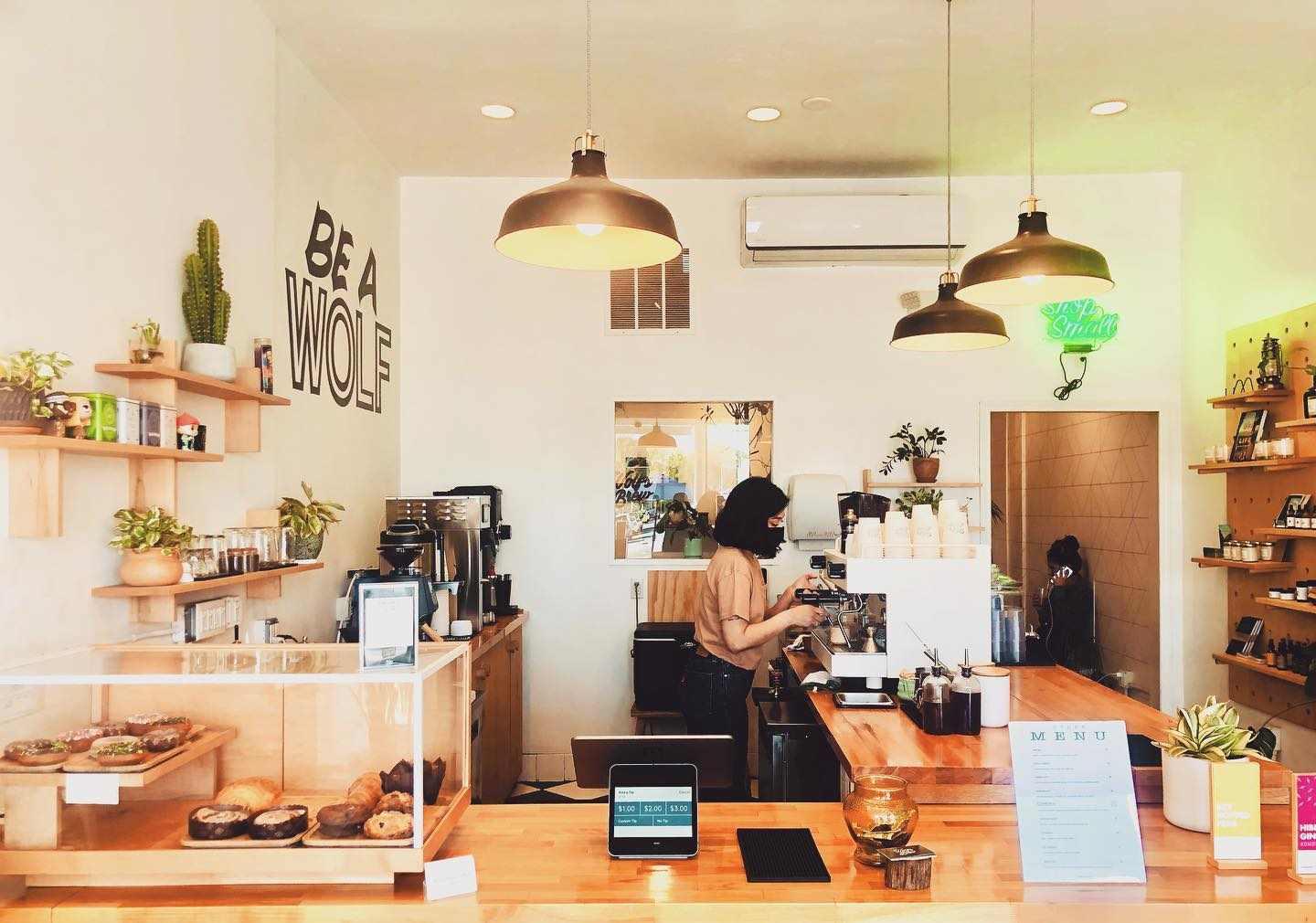 If you're searching for a coffee experience that's as bold and unique as the city itself, look no further than Wolf's Brew. Perfectly situated right in the heart of Long Beach, this coffee shop is an absolute hidden gem that has many hooked.
Wolf's Brew Coffee has a welcoming and laid-back vibe with a trendy, artistic touch. The exposed brick walls, soft lighting, and cozy seating create a relaxing ambiance that's perfect for some social catch-up with friends or a quick push on those client projects that are due tomorrow.
But even still, the star of the show is, you guessed it, the coffee. Wolf's Brew Coffee takes pride in sourcing the highest quality beans and roasting them to caffeinated perfection. From their rich and velvety espresso to their flavorful pour-overs, each cup tastes like a gift from the coffee gods.
Be sure to try their specialty drinks like the Mexican Mocha or the Turmeric Chai or you'll be missing out.
Address: 4145 Norse Way, Long Beach, CA 90808
Website: Wolf's Brew Coffeehouse
10. The Merchant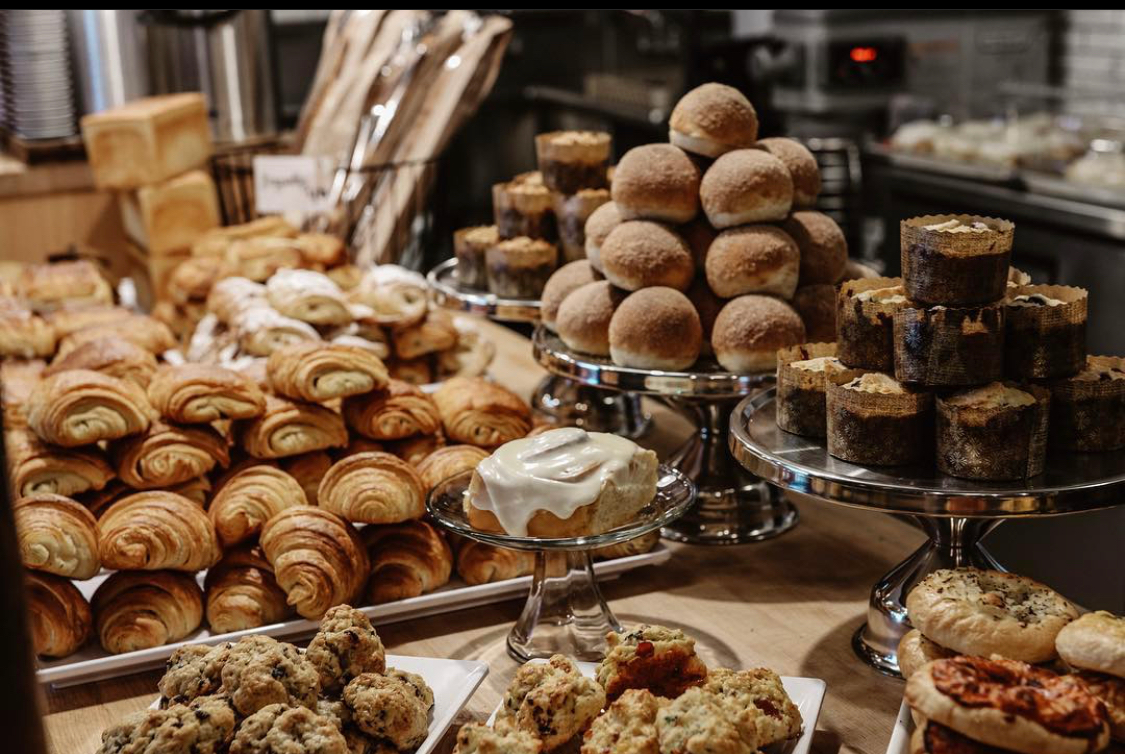 A long-time favorite amongst Long Beach coffee shops, The Merchant (in the Los Cerritos area) is a very popular coffee shop that also bakes up amazing pastries to go along with its famously delicious coffee drinks.
As far as pastries go, be sure to try the blueberry cinnamon rolls, jumbo cupcakes, or butter croissants. Then, rinse it down with a vanilla honey oat latte, matcha latte, or even the horchata latte.
The Merchant is one of the more unassuming and smaller options of local shops, but it is very cozy and inviting nevertheless. You'll find a few seats inside the shop as well as some tables out in the front to hang out and soak in the sun.
Address: 4121 Long Beach Blvd, Long Beach, CA 90807
Website: The Merchant
Final Thoughts: Best Coffee in Long Beach
So which is the best coffee shop in the city? Well, that's honestly up to you to decide. The truth is, Long Beach is a true coffee lover's paradise with a virtually endless number of coffee shops to choose from.
Whether you're seeking a cozy atmosphere, high-quality coffee, a creative workspace, or something in between, these Long Beach coffee shops have it all.
From the community-driven Aroma di Roma Cafe to the hip and laid-back vibes of Steelhead, each of these coffee shops offers a unique experience that is sure to satisfy your caffeine cravings.
So, grab your laptop, head out to one of these fantastic coffee shops, and immerse yourself in the vibrant coffee scene of Long Beach. Cheers to getting long overdue sh*t done and great coffee to fuel the grind!