The Best Pizza in Long Beach: 17 Top Pizza Joints
Last Updated on September 20, 2023
Now here's a fact: Los Angeles is home to some of the best food in all of Southern California, let alone the entire country. And of course, right there at the forefront of it all is the amazing pizza.
Sure, LA is famous for its tacos (which are straight-fire, too), but the pizza in the area is also up there with the best of them.
Also read: Best Breakfast in Long Beach
And as to be expected, Long Beach follows suit, offering up some seriously amazing pies for grubbing.
At the southern end of Los Angeles County, Long Beach is home to some of the best pizza restaurants in LA. Whether you're looking for New York-style pizza, Mexican pizza, Canadian pizza, or something more on the creative side, there's a pizza joint in the area to match your cravings.
As a Los Angeles resident of more than three years, I know a thing or two about the pizza scene in LB. To help you in your search for the best pie in Long Beach, I created this complete guide so you know where to go for the best of the best.
Without further ado, here are the 17 best pizza restaurants in Long Beach, California!
Wayfare With Pierre is reader-supported and may contain affiliate links. If you make a purchase using one of these links, we may receive compensation at no extra cost to you.
17 Best Pizza Long Beach, CA
1. Thunderbolt Pizza
Since its inception only a few years ago in October of 2020, Thunderbolt Pizza has quickly become one of the best pizza parlor spots in Long Beach.
Their handcrafted pizza is simply amazing, with curated options like the Colpo di Fulmine (with hot honey-coated dough for a slightly sweet taste) and the Bixby Butcher (basically meat-lovers pizza).
From there, you can get to work on the many other appetizers and sides. Some crowd favorites include the Thunder Nuggies, garlic knots, bone-in hot wings, and zucchini sticks.
Just make sure to come with an empty stomach– you're gonna want to chow down when you visit.
Address: 4085 Atlantic Ave, Long Beach, CA 90807
Website: Thunderbolt Pizza
2. Thai Curry Pizza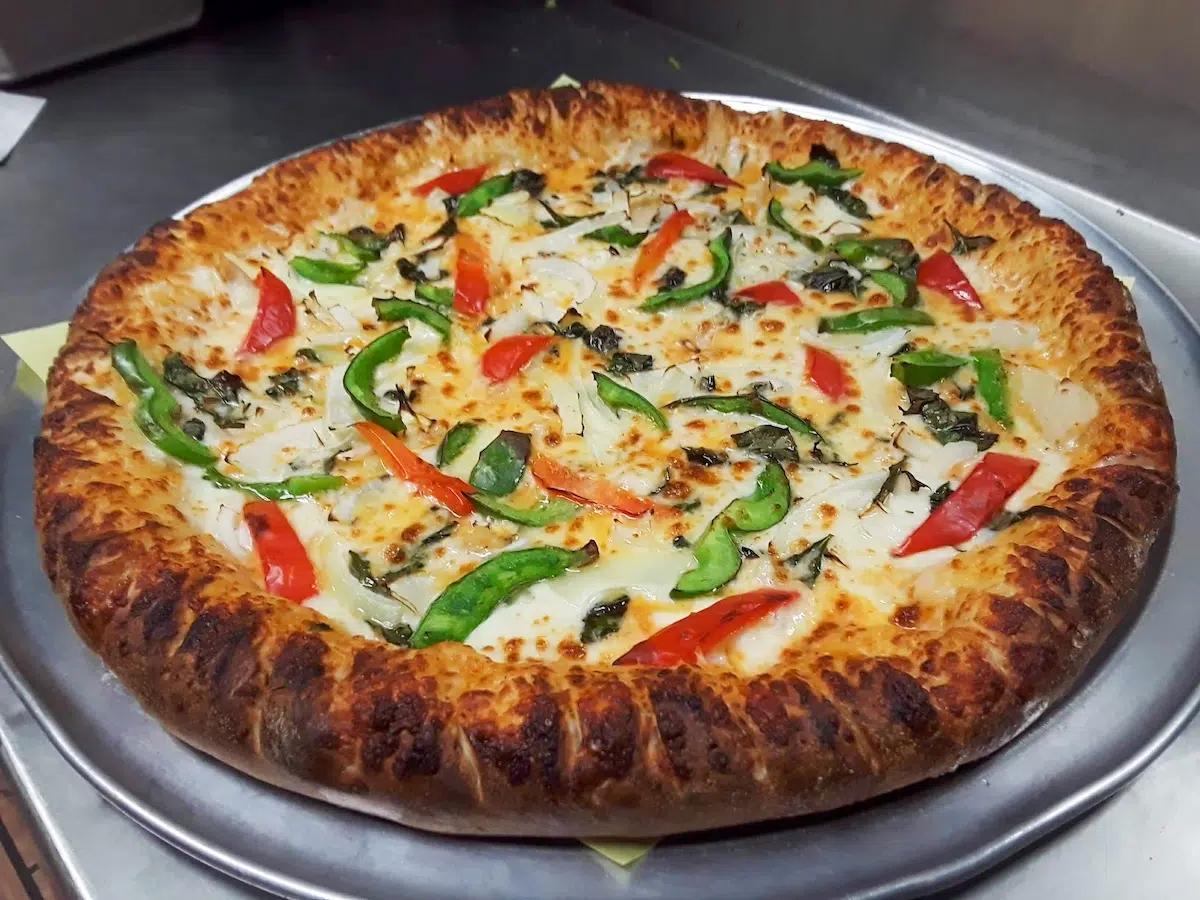 If you think you've had the best pizza in Long Beach or the Los Angeles area, think again. Especially if you have yet to make a stop by Thai Curry Pizza.
Have a craving for pizza and Thai food, but can't decide? Luckily, you don't have to. As the name implies, this is probably the only restaurant in Long Beach where you can order your fix of both.
Want pad Thai and a pepperoni pizza? Go for it. Craving both chicken fried wonton and a BBQ chicken pizza? That's a common order combo at Thai Curry Pizza.
Available for both takeout and dine-in, Thai Curry has become a staple in Long Beach and surrounding LA areas for hangry visitors and locals alike.
Pro tip: Order a side of curry sauce to go with your pizza. Also, the Tom Yum pizza sauce is immaculate. Seriously.
Address:929 Redondo Ave, Long Beach, CA 90804
Website: Thai Curry Pizza
3. Rance's Chicago Pizza
Looking for a deep-dish pizza in Long Beach? If so, then Rance's Chicago Pizza has you covered at its two locations: one in Costa Mesa and the other in Long Beach – Belmont Shore.
If you've been to Chicago and tried authentic deep-dish pizza, then you know that it's all about achieving that perfect pairing of a crispy crust with lots of toppings (or fillings? not sure) filled to the rim.
Well, Rance's Chicago Pizza brings this authentic Chicago deep-dish pizza flavor to Long Beach better than anyone else could.
This pizza joint doesn't hold back on ingredients, whether you're going for the classic toppings of the House Special (sausage, bell peppers, onions, and mushrooms) or something more creative like Rance's Favorite (meatballs with diced bacon and jalapenos).
If you're on the hunt for a heavy pie, just know that each deep-dish slice at Rance's is absolutely stuffed with serious flavor. Like, seriously.
Address: 5258 2nd St, Long Beach, CA 90803
Website: Rance's Pizza
4. Speak Cheezy
Once a mobile pizza van, Speak Cheezy is now easily one of the best pizza restaurants in Long Beach, especially if you're all about sourdough pizzas.
In fact, Speak Cheezy is one of the original sourdough pizza restaurants in all of the LA area. All of the pizzas that come out of this restaurant are made with organic flours that are naturally risen for about 5 days. Sound like a heck of a process? Sure, but that's how you know it's good stuff.
Some highlights from the Speak Cheezy menu include the Brooklyn Bee (spicy salami, veggies, loads of cheese), The LBC (house Italian sausage, veggies, and tons of cheese), and the Truffle Shuffle (a next-level mushroom pizza).
Address:3950 E 4th St, Long Beach, CA 90814
Website: Speak-Cheezy
5. Long Beach Beer Lab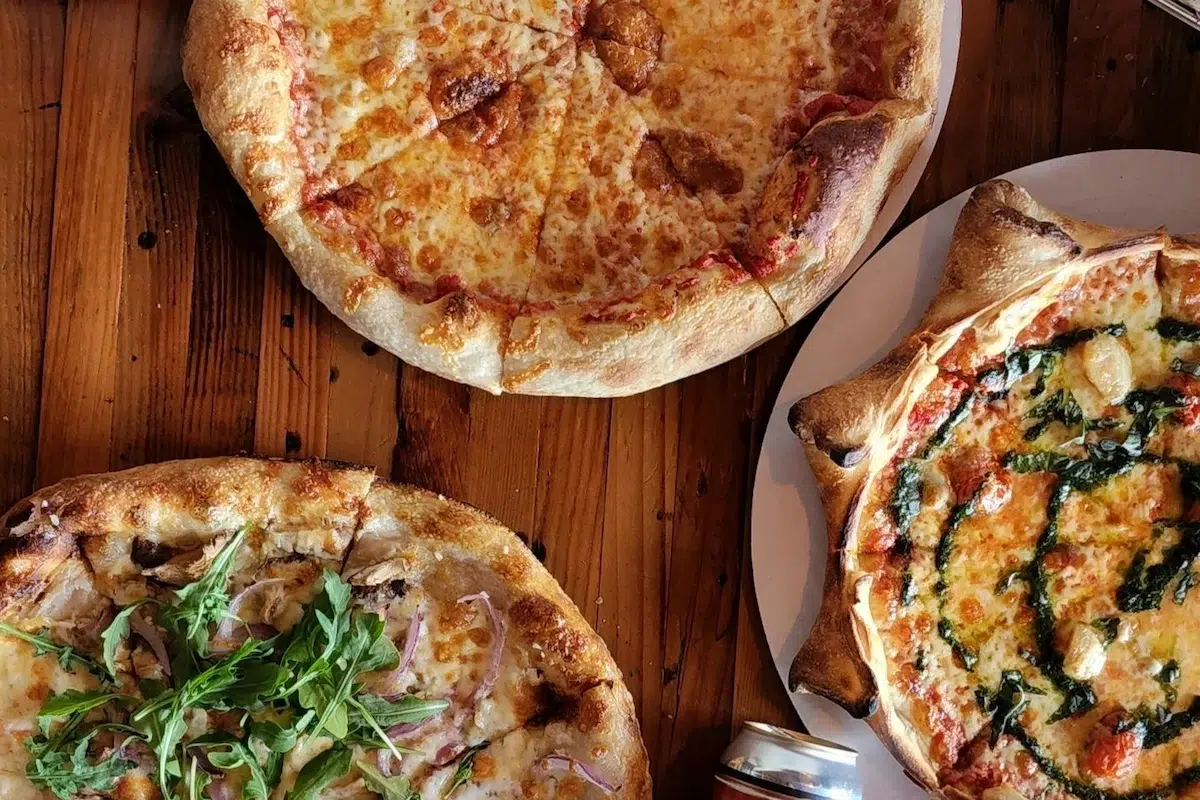 Name a better combo than pizza and a cold beer– we'll wait. Hint: There are little to none.
At Long Beach Beer Lab, this is even more true because they put just as much time and effort into their pizza as they do with their craft beer.
Sure the menu isn't extensive, but that just means even more TLC is spent on the pies. Local favorite pies include the Traditional Pizza, Margherita, or Spicy Mushrooms Wild Pizza.
You can even go for the Grandma Slice, a smaller and healthier bite if you're counting your calories. Oh and if you're vegan, you'll love Long Beach Beer Lab– you can make all pies vegan upon request.
Address:518 W Willow St, Long Beach, CA 90806
Website: LB Beer Lab
6. Dutch's Brewhouse
While the brews are definitely a hit (it was ranked as one of the quickest-growing breweries some years back), the pizza at Dutch's Brewhouse is just as sought after for Long Beach visitors and locals alike.
Sure, they have beer on tap or by the bottle/can, but Dutch's Brewhouse takes it a step further and offers brew sessions where, you guessed it, you can brew your own beer to your liking.
On the theme of pizza, Dutch's cooks up some of the best pizzas in Long Beach hands down.
The Dirty Bird pizza is a crowd-pleasing pie, topped with the pizza joint's famous beer chicken along with BBQ sauce, pineapples, mozzarella cheese, and red onions. Or go with Spicoli, topped with beer chicken, bacon, sriracha, kettle chips, and lime.
Get both pizzas if you want– we're not here to judge.
Address:4244 Atlantic Ave, Long Beach, CA 90807
Website: Dutch's Brewhouse
7. Village Road Pizzeria
If you want a quick bite near the Long Beach Airport or just happen to find yourself in that area, Village Road is as reliable as it is ridiculously delicious.
Unlike other restaurants that work to reinvent the wheel, Village Road Pizzeria sticks to the classics. And saying they do it well is an understatement. The thin-crust pies are all made to perfection: quality dough for the crust, flavorful red sauce, tons of caramelized cheese, and toppings galore.
An unpretentious and under-the-radar pizza joint, there's no beating it.
Address:4123 Norse Way, Long Beach, CA 90808
Website: Village Road Pizzeria (Instagram)
8. Little Coyote
Pizza that doesn't suck. That's what you see on the homepage of Little Coyote's website. That's also what they deliver better than most.
Launched only a few years ago by chef Jack Leahy during the pandemic, Little Coyote has quickly become a staple pizza joint in Long Beach for not only locals but visitors as well.
Every day, loyal fans frequent Little Coyote to get their fix of New York-style pie. Each slice comes complete with red tomato sauce, a thin flaky crust made from quality dough, cheese, red tomato sauce, and tried-and-true toppings like Italian sausage or pepperoni.
Do yourself a favor and try the White Pie (spinach and Calabrian chili) or the Veggie Supremo (olives, onions, peppers, and beyond). Or get both pizzas– we're not here to judge.
Pro foodie tip: If you make a pit stop for lunch, you can snag a slice or two for $5 or less. The window is from 12 pm-2 pm specifically.
Address:2118 E 4th St, Long Beach, CA 90814
Website: Little Coyote LBC
9. Canadian Pizza & Grill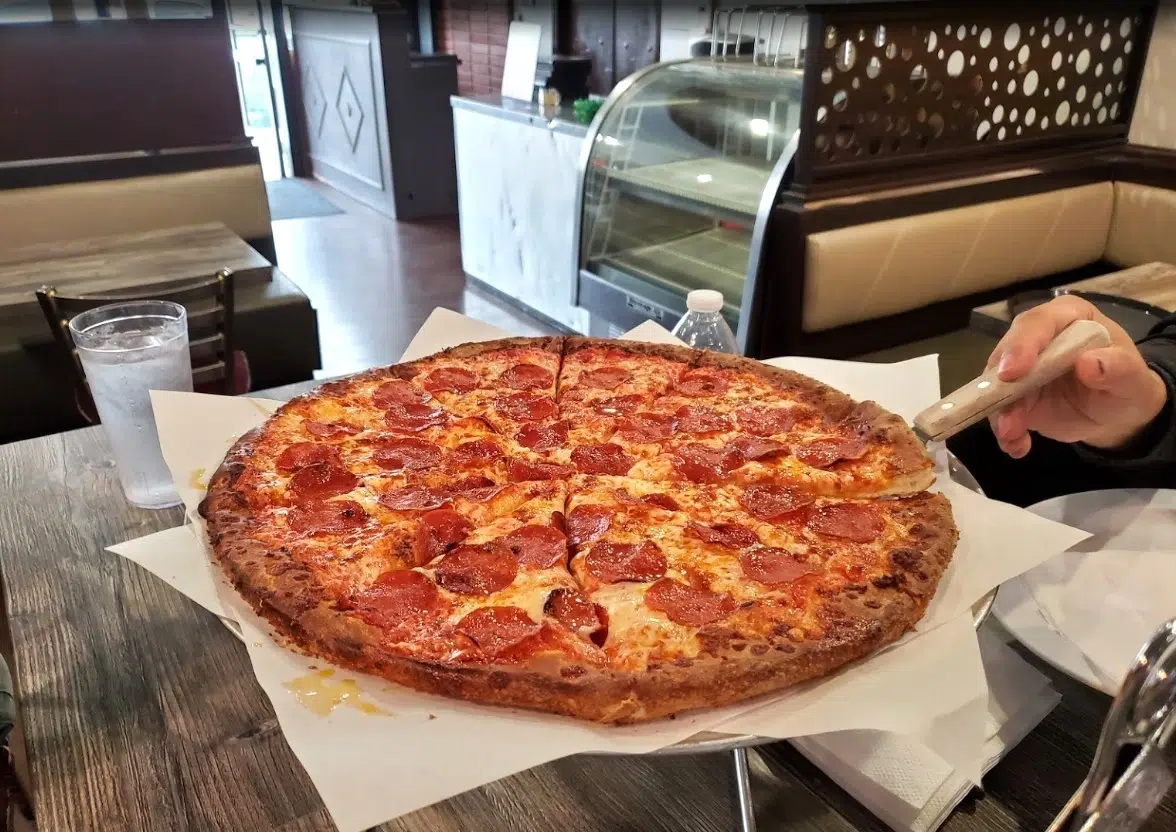 One thing is for sure: the Los Angeles cuisine scene is notorious for blending cultures. Following suit, Canadian Pizza & Grill definitely serves up Canadian pizza (tomato sauce, mozzarella cheese, bacon, pepperoni, and mushrooms), but they dish out other culturally-influenced pies as well.
Plugged in locals are obsessed with the Mexican Pizza, complete with chorizo, jalapeño, cilantro, onions, green pepper, and pepperoni. Another local hit is the Mediterranean, topped with pepperoni, tomatoes, black olives, and feta cheese.
They have lots of other items on the menu ranging from calzones and Philly cheesesteak to subs and salad, but that's not what you came for– you're here for the pizzas, plural. Trust us: you won't be disappointed.
Address:1241 E 4th St Long Beach, CA 90802
Website: Canadian Pizza & Grille
10. La Parolaccia Osteria Italiana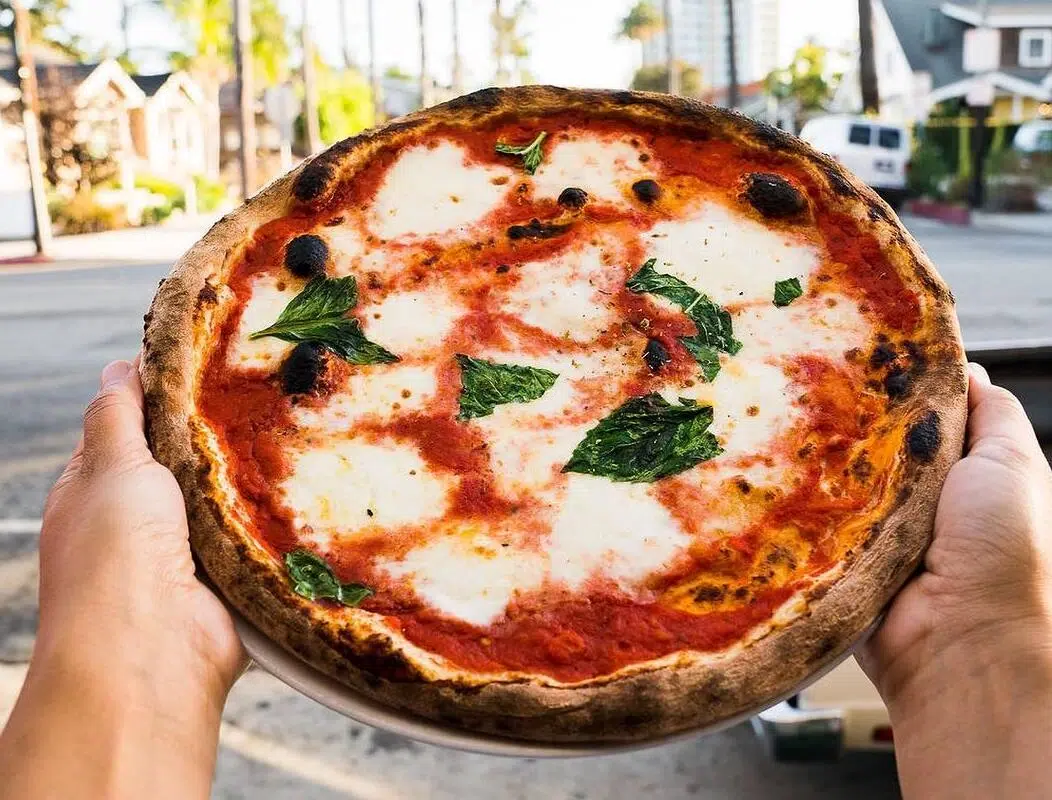 Like a direct transplant, La Parolaccia Osteria looks, feels, and tastes like an authentic Italy food experience right in the heart of Long Beach. In fact, the restaurant is owned by a family from Rome, Italy, so you already know you're in for real-deal pizzas.
Yes, you can go with the traditional Margherita, but they also have many other authentic pies ranging from the Carbonara (mozzarella and pancetta topped with egg) to the Totti, a half pizza/half calzone hybrid pie.
Locals swear by the Sofia, made with tomato sauce, burrata cheese, basil, tomatoes, and prosciutto. No matter which of the pizzas you go for, they're all made with organic Italian dough and fresh ingredients.
Address:2945 E Broadway, Long Beach, CA 90803
Website: La Parolaccia Osteria Italiana
11. 5000 Pies
Named as a reference to the number of people fed by Jesus in the New Testament, 5000 Pies is a social enterprise in West Long Beach owned by the Life Covenant Church.
Not to be cliche, but 5000 Pies is a literal godsend when it comes to, well, pie. All of the pizzas are made 100% from scratch, and the dough is the perfect blend of chew and crisp.
As for the menu, it's straightforward and gets the job done with simply amazing pizza. You can go for classic pie options like pepperoni or their version of supreme (sausage, pepperoni, veggies, the works), or you can get something a little more creative. For example, the Hawaiian is made with ham, spam, and pineapple.
Just be sure to get a side of the jag fries with your pie. You'll regret it if you don't.
Address:2064 Santa Fe Ave. Long Beach, CA 90810
Website: 5000 Pies
12. Big E Pizza
Let's be real: We all need a place for pizza open in the wee hours of the morning for those late-night cravings or after a long night out.
Big E Pizza is straightforward and no-frills in appeal, but it's one of the best and most reliable spots in Long Beach for a quick pizza run when you need it most.
Most nights till 12:45 am, but they stay open till 2:45 am on Fridays and Saturdays (thank you Big E). It's in Signal Hill technically, but it's so close that it's still a local favorite.
They have all sorts of pizzas to choose from too, like the Meat Lover's, Southwest, Philly Cheesesteak, or the Vegetarian.
Address:3225 CA-1 C, Signal Hill, CA 90755
Website: Big E Pizza
13. The 4th Horseman
Chances are, you'll probably never find another pizza joint like this one. A horror-themed food spot, The 4th Horseman serves up thin-crust pizzas as creatively crafted as its spooky ambiance.
Some of the highlights from the menu include the EL Puerto Loco (carnitas and avocado-tomatillo salsa) along with the Alchemy, which features gochujang tomato sauce, vegan sausage, and pickled carrots.
Heads up: you have to be 21 or older to dine in here. But that doesn't mean you can't get some delivery or carry-out to enjoy some seriously otherworldly pie.
Address:121 W 4th St, Long Beach, CA 90802
Website: The 4th Horseman
14. Milana's New York Pizzeria
To fold or not to fold, that is the question. For folks who adore pie from the Big Apple, Milana's New York Pizzeria is as NYC as it gets.
If you're looking for a quick grab-and-go lunch, snag yourself one or two slices of flat, foldable pizza slices. For a heartier meal, their thicker Brooklyn squares are more than filling. All in all, this is a must-visit for pizza lovers looking for something that meets NY-style pie standards.
Address:165 E 4th St, Long Beach, CA 90802
Website: Milana's New York Pizzeria
15. Colossus Bread
A woman-owned and operated bakery in both Long Beach and San Pedro, Colossus is a local hit for its sourdough breads and bakery goods. However, they also use their sourdough bread to bake up some amazing pizza once weekly.
To catch it, be sure to visit Colossus on Fridays between 5 p.m. to 8 p.m. Also, the pizza menu is not set and rotates constantly, but you can expect creative options like white pizza with ricotta cheese and corn, or toppings like fried eggplant and fennel.
The team really lets their creative juices flow, and the proof is in the delicious pizzas. Just try to get there closer to 5 p.m.– they tend to sell out quickly.
Address:4716 2nd St, Long Beach, CA 90803
Website: Colossus
16. Domenico's Restaurant
Aside from the great pizza, Domenico's Italian also holds the distinction of being Long Beach's oldest dining establishment, serving great food in the local area since way back in 1954.
Domenico's offers a range of classic toppings and a full range of Italian dishes. However, its standout specialty is the ground pepperoni pizza, which has gained a cult following. It makes sense, too: With a thick layer of ground pepperoni, loads of cheese, and hearty sauce, what's not to like?
Other local favorites include the Spicey BBQ Chicken, Domenico's Supreme, and the Chicken Alfredo Pizza.
Address:5339 2nd St, Long Beach, CA 90803
Website: Domenico's Restaurant
17. Michael's Downtown
For those nights out where you wanna get a little fantasia (that's fancy in Italian, btw), Michael's Downtown Italian Kitchen & Caffe fits the bill perfectly.
They serve a full Italian fare complete with appetizers, bowls, pasta, wines, and other delights, but the pizzas are the stars of the show. They have traditional Italian pizzas like the Margherita or the Marinara of course, but Michael's Downtown serves up other unique pies as well.
The Summer Pizza is a hit, with chicken, pancetta, smoked mozzarella, red sauce, onion, Calabrian chilis, and parsley. It's not something you want to miss out on. The Pistachio Stracciatella is another local hot commodity, featuring fresh mozzarella cheese, stracciatella cheese, pistachio, mortadella, and olive oil.
It goes without saying that some of the best pizzas in Long Beach, can be found here at Michael's. Bar none.
Address:210 E 3rd Street, Long Beach, CA 90802
Website: Michael's Downtown
Best Pizza in Long Beach: FAQs
Where to find the best gluten-free pizza in Long Beach?
There are quite a few great gluten-free options in Long Beach, including Domenico's Belmont Shore, Thunderbolt Pizza, Michael's Downtown, and Long Beach Beer Lab.
Where can I find the best pizza place in Long Beach for New York-style pizza?
Some of the best pizza places for NY-style pizza in Long Beach can be found at Milana's New York Pizzeria, Thunderbolt Pizza, Speak Cheezy, and The 4th Horseman.
Where can I get authentic Italian pizza in Long Beach?
The best pizza places for authentic Italian pizza in Long Beach are Michael's Downtown and La Parolaccia Osteria.
Where to Stay in Long Beach, CA
Budget: The Belmont Shore Inn
Just a 4-minute walk away from the beach, The Belmont Shore Inn is a palm tree-lined hotel that provides affordable and no-frills rooms without compromising on comfort. The rooms are spacious and some even include a sofabed for lounging.
Breakfast and Wi-Fi are complimentary, along with a flat-screen TV and minifridge to save that last slice for later.
Mid-Range: The Queen Mary
The Queen Mary is easily the most unique stay on this list: You're quite literally staying in one of the historic staterooms aboard the Queen Mary ship. And no, the rooms aren't anything like you'd expect on a cruise ship.
Instead, the 200 sleeping rooms are spacious, ridiculously comfortable, and feature original 1930s artwork and Art Deco styling. It truly feels like taking a step back in time as if you were traveling across the Atlantic in the '30s, '40s, and '50s. Room options range from Full Suites to Standard Staterooms.
Luxury: Hyatt Regency Long Beach
If you're looking for something more on the luxury side, Hyatt Regency Long Beach is the perfect waterfront escape. With unrivaled views of the Pacific Ocean and easy access to local gems like the Aquarium of the Pacific and the historic Queen Mary, this hotel is absolutely prime.
Do yourself a favor and visit the rooftop pool. And when it's time to grub, you're close to lots of great pizza joints like The 4th Horseman and Milana's.
Best Pizza in Long Beach: Final Verdict
From New York-style slices to heavier Chicago-style pizza, there's no shortage of great pizza in Long Beach, California. Los Angeles County as a whole is famed for its next-level foodie scene, and Long Beach specifically has some of the best pizza spots in the county.
With so many pizza options in Long Beach, it can be a task just figuring out where to go for lunch. Hopefully, this article is helpful in narrowing down your options so you can focus on the best of the best pizza in Long Beach.
Whether you're craving a foldable slice of NY-style pizza or something creative and inventive, these pizza joints top the list in all of Long Beach. Have fun getting your grub on!