The Best Guide to Visiting Death Valley National Park
Last Updated on September 16, 2023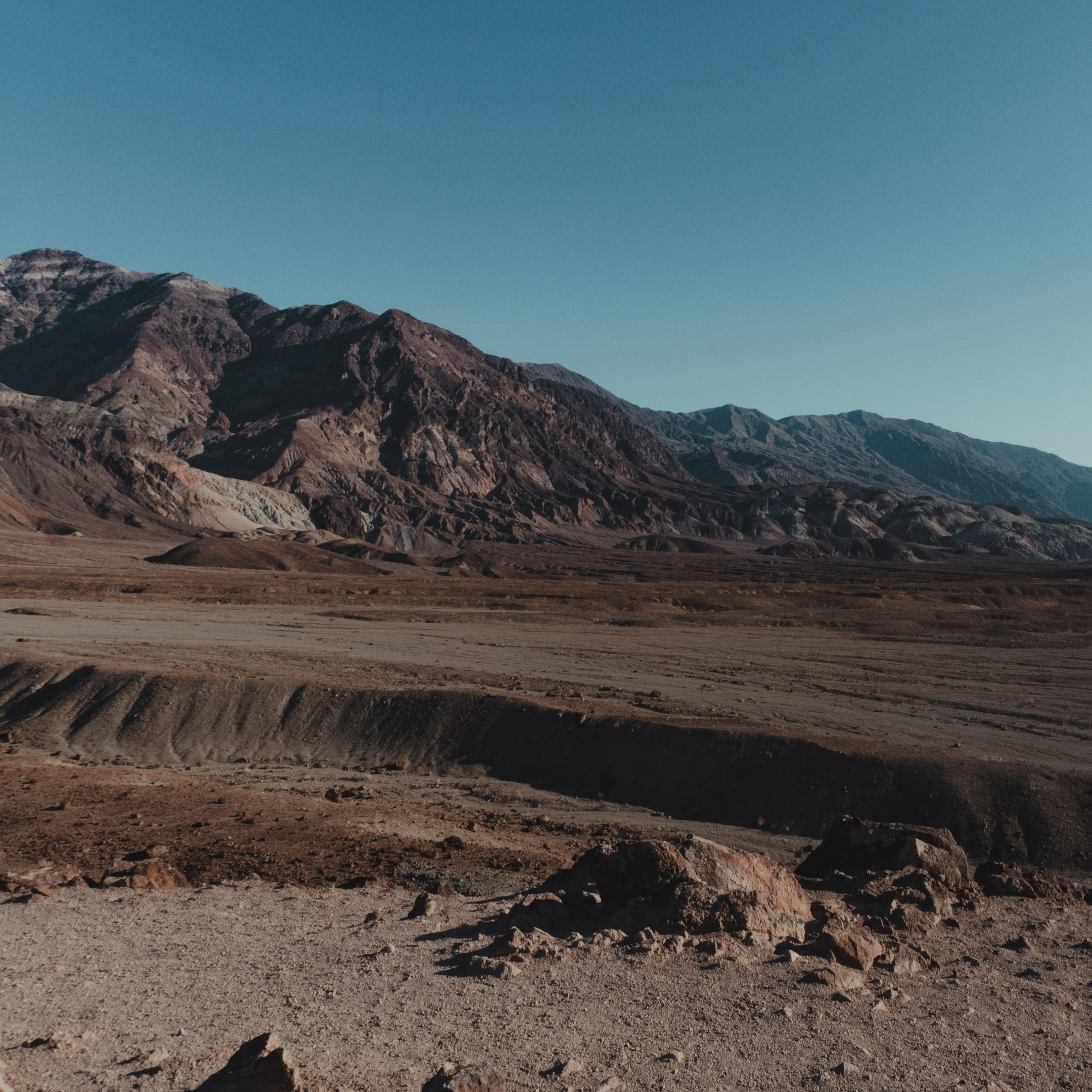 To be honest, I stumbled upon Death Valley more than I actually sought it out. I'm glad I did because it made for one of the best nature trips I've had with amazing views that will take your breath away.
I was driving on my way to Las Vegas from Los Angeles one Friday morning, and I just so happened to take the scenic route (aka a much longer route) that just so happened to pass by Death Valley National Park along the way.
While it has a name that might make some pause before visiting, Death Valley National Park is an incredible place that is well worth the journey. Located in the Mojave Desert of California and Nevada, this park boasts stunning views, unique geological features, and plenty of outdoor activities.
If you're looking for some helpful pointers as you make your way to Death Valley, then you've come to the right place. Below you'll find a complete list of the most frequently asked questions (FAQs) and my answers accordingly. Think of this as a comprehensive guide for visiting Death Valley National Park that will set you up for success.
It's time to take a closer look at what you can expect when you visit Death Valley National Park. Yes, it's one of the hottest places on planet Earth, but also yes, it's absolutely worth the visit.
What is Death Valley National Park?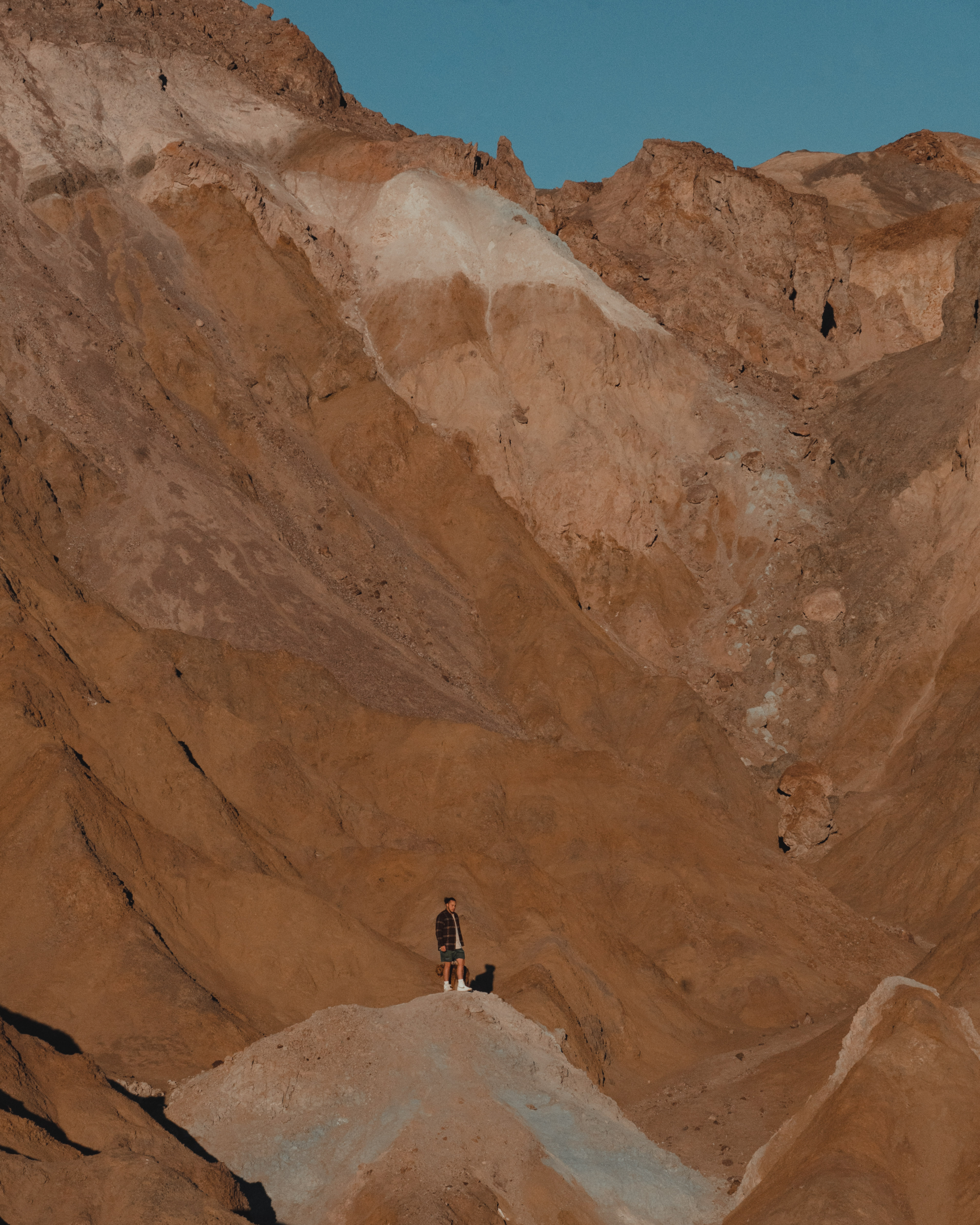 Death Valley National Park is a desert valley located in the northern Mojave Desert that stretches nearly 5,270 miles from south-central California into Nevada. The park is managed by National Park Service and is home to countless mountains, hills, flats, and all sorts of terrain in between.
But if we're talking about travel and adventure, Death Valley National Park is a unique and beautiful destination that offers a wide range of outdoor activities for visitors to enjoy. Whether you're looking for a challenging hike, a scenic drive, or a relaxing camping experience, Death Valley has something to offer.
However, planning a trip to Death Valley can be a bit tricky, as the park's extreme temperatures and remote location require careful preparation.
Why Should I Visit Death Valley? Is Death Valley Worth Visiting?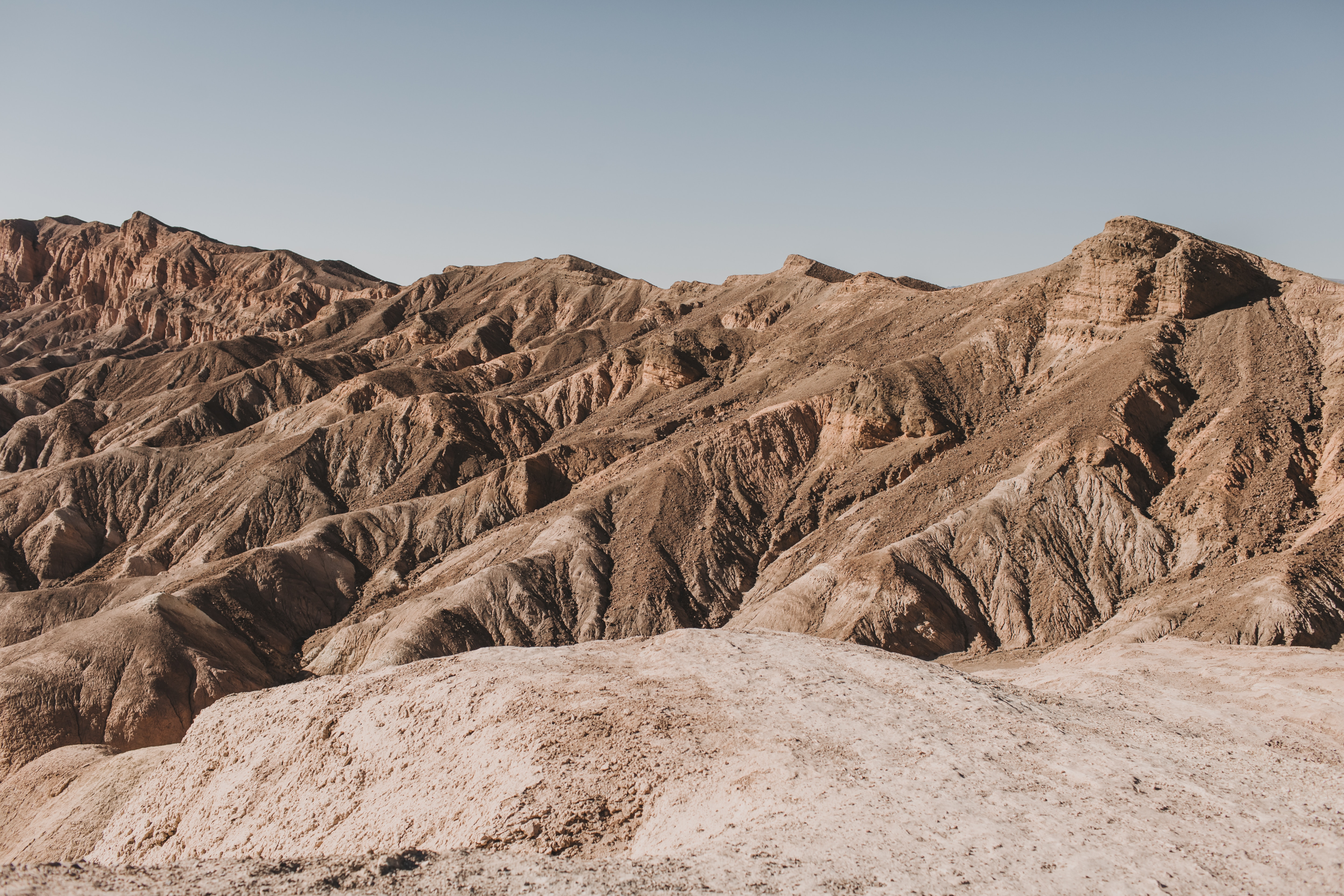 Honestly, the better question to ask is why wouldn't you visit Death Valley? With more than 3,000 square miles of grounds to explore, Death Valley is the fifth-largest national park in the United States and the largest national park in Southern California.
Death Valley is home to some of the best hikes in the US (my favorite is Badwater Basin) and is easily one of the most geologically diverse national parks in the U.S., let alone the world. You can find all sorts of wildlife, camp underneath the stars with zero light pollution, take a hike along Zabriskie Point or one of the other many hiking trails or simply enjoy a beautiful drive as you pass through.
What is the Best Time of Year to Visit Death Valley?
Death Valley is open year-round with park rangers on duty as well, but that doesn't mean it's swarming with tourists every month.
Because of the scorching hot temperatures for a lot of the year (the summer heat is brutal), the best time of year to visit Death Vally is somewhere between November to April, with early spring arguably being the best time to visit.
The weather is not only bearable but actually, quite nice, filled with many warm and sunny days. To top it off, this tends to be the best time of year to see the park's beautiful wildflowers and desert wildlife, especially if the previous winter brought in some rain.
If you're looking to protect your wallet and save money, then the cheapest time to visit Death Valley tends to be around early to mid-summer. You'll definitely avoid the tourist crowd and save a couple of dollars, but just be prepared for hot weather to the tune of 100 degrees Fahrenheit and up.
Regardless of when you decide to go, I highly recommend bringing plenty of water and sunscreen to err on the side of caution in case of extreme heat.
How Many Days Do I Need in Death Valley?
If you're short on time, then 2-3 days are more than enough time to visit Death Valley and visit many of the attractions. However, if you want to really soak in the views and experience some of the longer and more difficult hikes, I recommend staying for closer to 5-7 days.
This will allow you more than enough time to explore the park while having some time for relaxation and leisure days- especially after long hikes.
Will I Have Cell Phone Service in Death Valley National Park?
If you were expecting your 5G network to be reliable in Death Valley, think again. The cell service here is honestly terrible the majority of the time, no matter what service provider you have.
If you're really needing cell service, I would recommend trying out the Furnace Creek area or Stovepipe Wells. I had some luck when I was in those areas.
What Should I Pack For My Death Valley Trip?
Let's face the facts here: Death Valley National Park is huge, with very limited amenities (or gas stations for that matter) to choose from. Therefore, it's important to come prepared to make sure your trip is fun, safe, and memorable!
Here are a few essentials that I recommend packing:
What are the Best Hikes in Death Valley National Park?
Since my first trip to Death Valley, I've been back a handful of times to take advantage of the amazing hikes and views that come with them. My favorite by far has to be Badwater Basin, Zabriskie Point, and the Mesquite Flat Sand Dunes.
With Death Valley being so big, you're able to find a wide variety of hikes and trails to choose from, whether you want an easy and pleasant walk or a more challenging hike to soak in views of the entire park. Hiking Death Valley is possible for everyone, no matter their preference or skill level.
Here are some of the (many) best Death Valley National Park trails to choose from:
Easy
Zabriskie Point (easy, 0.6 miles out and back)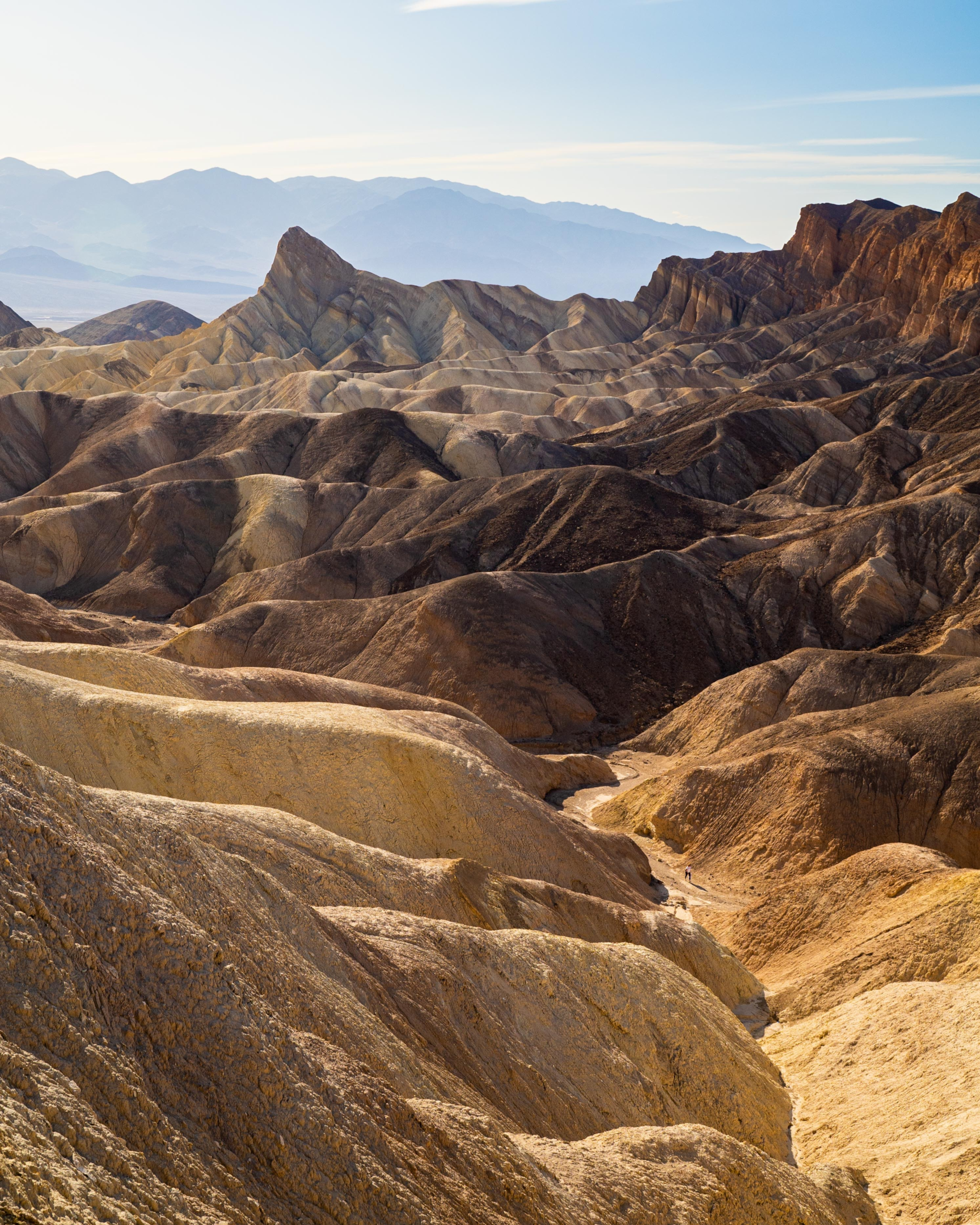 Shouldn't take more than 20 minutes and offers one of the most scenic views of Manly Beacon and Red Cathedral. If you're a photographer like me, then you'll be in good company here with many other photography enthusiasts setting up shop to capture the perfect shot.
Mesquite Flat Sand Dunes (2 miles+ round trip)
As one of the most accessible trails in Death Valley, the Mesquite Sand Dunes tends to be very busy. Go right in time for the Death Valley sunset for some amazing golden hour views. Oh, and be sure to bring a board: Sandboarding is allowed if that's your thing.
Darwin Falls (2 miles round trip)
Told you Death Valley has something for everyone. As the name suggests, Darwin Falls is a waterfall, a rather lush oasis smack dab in the middle of salt flats, tall mountains, and badlands.
Keep in mind that this hike doesn't have a formal trail so you'll have to do some scrambling. But the views are absolutely worth it.
Artist's Palette (<0.5 miles round trip)
While technically not much of a hike, Artist's Palette still deserves a spot on the list of best hikes because of the once-in-a-lifetime view it has to offer. To get there, you'll drive along Artist's Drive, a fully paved loop. You'll find the parking lot about 5 miles in.
This easy hike offers easily one of the most scenic viewpoints as you're exploring Death Valley, with a wide range of colors from pinks to greens in the mountainous rocks. For Star Wars nerds, you might even recall seeing these mountains in A New Hope!
Badwater Basin (1-5 miles out and back)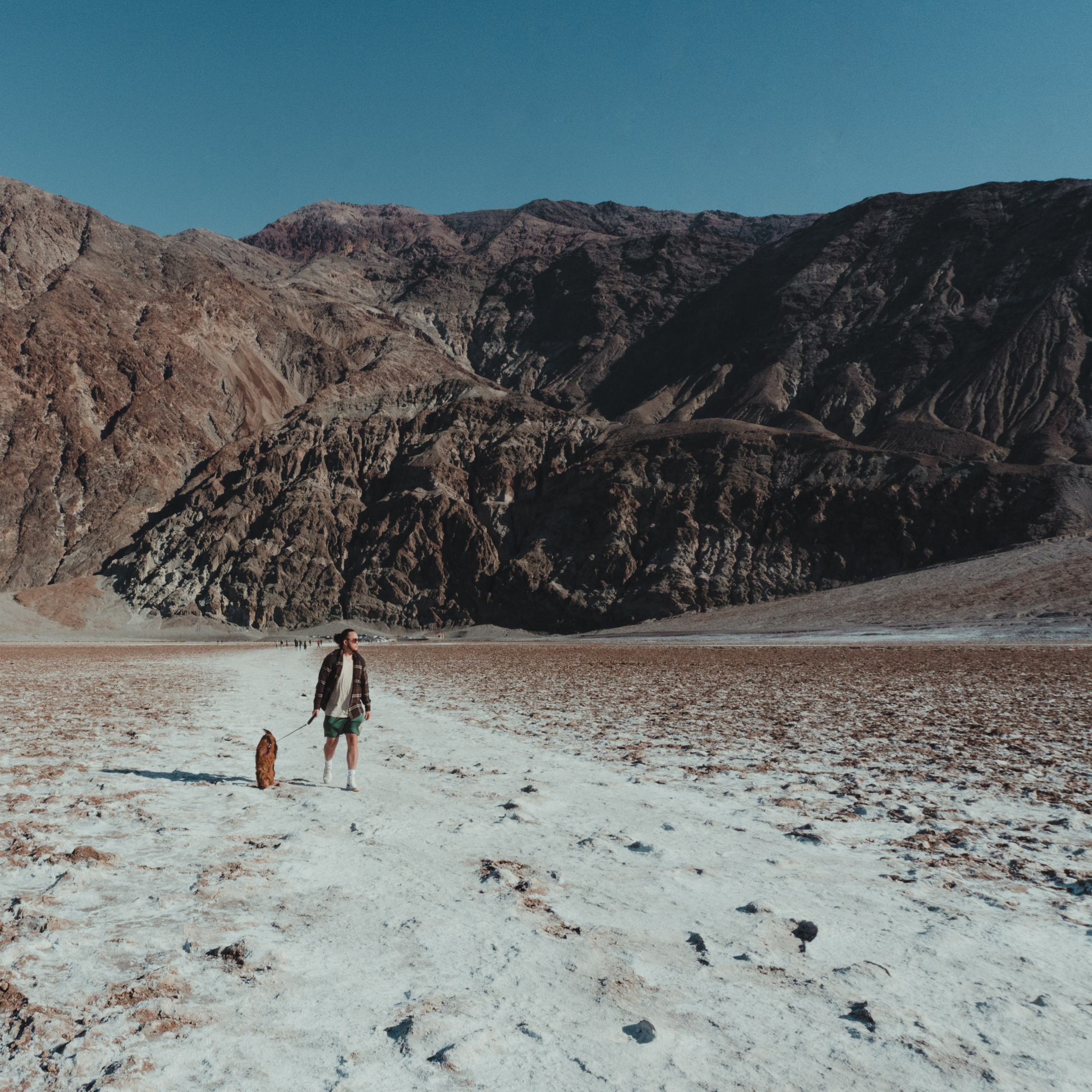 As one of my very first Death Valley hikes, it would be a shame to leave out Badwater Basin. On top of that, Badwater also just so happens to be the lowest point in all of North America at 282 feet below sea level.
You can't take a trip to Death Valley and not visit Badwater Basin!
As you walk along the mostly flat trail, you'll see the Badwater Salt Flat on either side of the trail, a nearly 200-square-mile bed of salt crystals in amazing formations. Walk along the trail as far as you want to go while you soak in the remnants of a lake that dried up thousands of years ago.
Salt Creek Interpretive Trail (0.8 miles loop)
One of the best things about Salt Creek Interpretive Trail is that it is ADA-accessible, so just about everyone can enjoy this quick loop trail. Technically, this hike is more of a stroll along a boardwalk that winds along Salt Creek.
On top of offering amazing views of Death Valley's mountains and winding hills, this trail is one of the best places to spot the rather rare Salt Creek pupfish. These fish have evolved to withstand the often 100+ degree water temperatures.
Sadly, they are currently listed as an endangered species, so seeing them in person was truly a gift.
Natural Bridge Canyon Trail (1 mile out and back)
As the name implies, Natural Bridge Canyon Trail leads you to, well, a natural bridge. A quick and easy trail, the journey starts with a gravel-paved path (Natural Bridge Road) that leads into the canyon. After about half a mile, you'll reach the opening of the natural bridge.
This, of course, is where you'll find all the tourists setting up their self-timers and then running into the frame. Snap your pic, and then either continue down the trail toward dried-out falls or turn back around.
Moderate/Difficult
Ubehebe Crater Loop (<2 miles out and back)
Ubehebe Crater is yet another amazing journey into the past. This large crater comes in at about 600 feet deep and is the result of a steam eruption that happened thousands of years ago.
Most visitors (myself included) choose to simply walk along the rim of the crater, which gives you an up close and personal view of the crater. If you're feeling adventurous and don't tend to skip leg day, you can venture down into the crater about 0.3 miles.
The hardest part would be tackling the 374-foot climb back to the top, but it'll be all worth it in the end (at least I'd like to think so).
Golden Canyon Trail (>4 miles out and back or loop)
Many people consider Golden Canyon Trailhead to be the most beautiful hike in Death Valley, and I can't argue with them- the views along this trail is well worth the effort. Along the way, you'll see some of Death Valley's best sights, including the Red Cathedral and Manly Beacon, both in clear view from Zabriskie Point.
You'll definitely want to wear sturdy hiking boots, as this trail requires some scrambling up the hills and rocky trails.
Mosaic Canyon Hike (4 miles out and back)
Mosaic Canyon Hike is another one of my favorite Death Valley hikes, with views of marble canyon walls and natural mosaic-like formations.
While the hike starts out on an easy trail at Mosaic Canyon Road, Mosaic Canyon quickly turns into a steeper climb that requires a bit of scrambling along the rocks. However, if you've done some moderate hikes before, you should be just fine navigating your way through this one.
Desolation Canyon Trail (3.6 miles out and back)
On top of being one of the more isolated hikes in Death Valley, Desolation Canyon is also one of the most strenuous on this list. But just like every other Death Valley hike, the views you enjoy along the way are so worth it.
Desolation Canyon offers views of colorful mineral deposits and various rock formations as you make your way along the hike. Because some of the trails are rather steep, be prepared for some climbs, scrambling, and navigating through some rocks.
Will I Run Into Any Wildlife in Death Valley?
It's easy to assume that Death Valley National Park doesn't have any wildlife. I mean c'mon, it's called Death Valley, surely there isn't any wildlife right? Wrong.
Believe it or not, Death Valley is home to more than 50 types of wildlife. You'll find smaller species such as mice, rats, foxes, rabbits, and squirrels, as well as bigger species such as burro, mountain lion, bighorn sheep, and bobcat.
Overall, these animals tend to keep to themselves and are more afraid of you than you are of them. While it's unlikely that you'll run into any wildlife, it's always important to be aware of your surroundings.
Where are the Best Viewpoints to See Sunset or Sunrise?
Because there is very little light pollution, you can enjoy an amazing view of the Death Valley sunrise or sunset from virtually anywhere in the park. However, the most popular viewpoints are Zabriskie Point, Dante's View, and the Mesquite Sand Dunes.
If you ask me, Zabriskie Point is my personal favorite because it's a quick and easy walk up to the viewpoint.
Can I Camp at Death Valley National Park?
Absolutely! Camping is one of the best ways to experience Death Valley National Park in my opinion, especially if you want to get the full experience of it all.
There are 12 official campgrounds within Death Valley and more than 700 total campsites, so your options are aplenty. Some of the most popular campgrounds include Stovepipe Wells, Texas Springs, Furnace Creek, Sunset, Fiddlers Campground, and Panamint Springs.
Stovepipe Wells is my favorite since it has a nice general store to stock up on food, water, and essentials.
If you're looking to do some real off-the-map camping, you should check out Barker Ranch. While most attractions in the park are popular for the beautiful views, this spot is famous for its creepy history as the former hideout of none other than Charles Manson and his cult members during the late 1960s.
If ghost tours are your thing, then a campout at Barker Ranch is right up your alley– or valley.
What are the Best Hotels In Death Valley?
If camping is not your cup of tea, then you'll be happy to know that there are several hotels to choose from in Death Valley as well! Not only that, but they range from your run-of-the-mill motel-style inns to luxury palaces like the Inn at Death Valley, which is a AAA four-diamond-rated resort.
If you're looking to save money and just need somewhere to lay your head at night, then take a look into El Portal Motel or the Exchange Club Motel. If you're wanting something more high-end, then the Inn at Death Valley and The Ranch at Death Valley are safe (and pricey) choices.
Ready to Visit Death Valley National Park?
Whether you're looking for an adventure-filled getaway or just a quiet escape from everyday life, Death Valley National Park has something for literally everyone!
With stunning desert vistas dotted with unique geological features; plenty of outdoor activities like hiking trails and jeep tours; and mild temperatures all year round – it's no wonder why this national park continues to draw visitors from around the world. So what are you waiting for?
Pack your bags and head out on your next great adventure – explore everything that Death Valley National Park has to offer! I promise you won't regret it- scout's honor.