Runyon Canyon Vs Hollywood Sign Hike: The Ultimate Comparison For Your Los Angeles Trip
Last Updated on September 16, 2023
When it comes to California, you can expect to find countless outdoor experiences, from Death Valley National Park to the Sequoia National Forest, and everything in between. One of the best and most famous cities to launch your California adventures in is Los Angeles.
In addition to the fantastic food, culture, celebrity spottings, and events that the city has to offer, LA has some of the best outdoor experiences, from scenic and sandy beaches to breathtaking mountains, and everything you can think of in between. For hiking enthusiasts, LA is an absolute treasure trove of beautiful trails that offer a breath of fresh air and amazing views of the city and the mountainscape.
Whether you're a seasoned hiker like myself or just starting out in the hiking realm, you'll definitely find a trail to suit your needs in the City of Angels. Truth be told, LA is home to some of the best hikes in the US.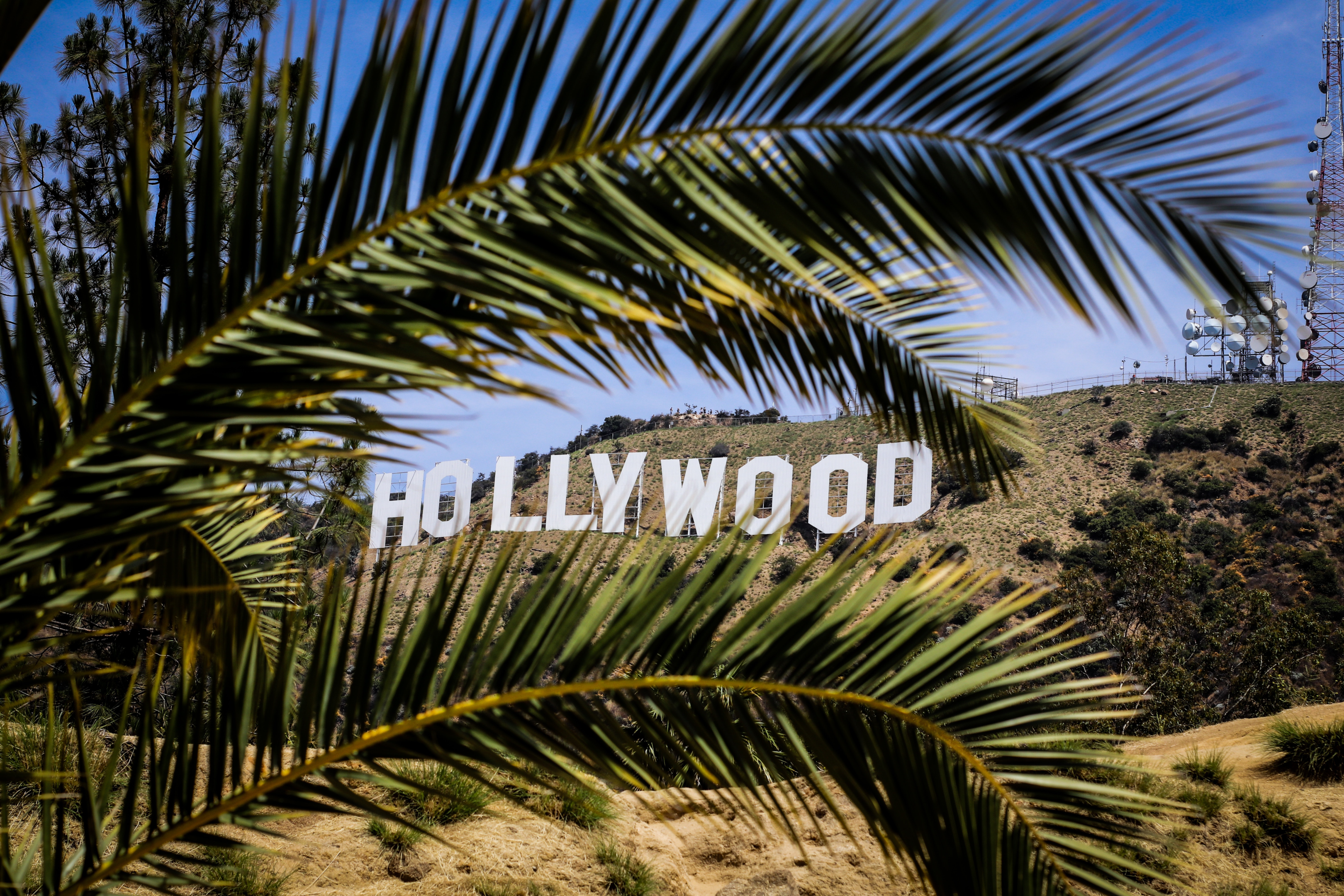 Two of the most famous and popular hikes in L.A. are the Runyon Canyon Park and Hollywood Sign hiking trails. Both offer these amazing views I keep talking about, but each trail has its own unique features and fun challenges.
If you're looking for an easy-to-moderate hike with some of the best views you can find in LA, then you should absolutely hike Runyon Canyon Park and/or the Hollywood Sign trails.
You honestly can't go wrong either way and I would even personally recommend doing both the Runyon Canyon Park trail and Hollywood Sign hike if you can, but I get it: sometimes time is limited when you're on the go.
In this quick guide, let's compare the two popular LA hikes, Runyon Canyon and the Hollywood Sign trails so that you can decide which one you'd like to hit first, whether you're a local or just visiting LA. We'll take a look at the distance, difficulty, scenery, parking, and other factors that will help you make the decision that's best for you. Let's dig in, starting with Runyon Canyon Park.
Runyon Canyon vs. Hollywood Sign Hike: The Ultimate Comparison for Your Next L.A. Adventure
Runyon Canyon Park
Visiting Runyon Canyon is a must when you're in LA. The Runyon Canyon Park trail is easily one of the most popular hikes you'll find in LA, and for good reason.
This short hike is a quick 2-3 mile hike and is rated as moderate. Runyon Canyon is given this rating due to a few steep inclines and declines at certain points, but it does not require any technical skill whatsoever to complete.
Runyon Canyon Park actually has three main trails for you to choose from: the narrower East Ridge Trail, East Ridge Trail, and Runyon Canyon Fire Road. All in all, East Ridge Trail is easily the most popular hiking route of the three.
To fit along with the hustle and motivation culture that thrives in LA, East Ridge Trail has two pitstops aptly named Inspiration Point and Clouds Rest. From these viewpoints, you can enjoy those picture-perfect views of the LA skyline around you.
Clouds Rest is really one of the most popular views in the park and is one of my personal favorites. As you can imagine, Clouds Rest gives you a high-up view of the city that almost feels like you're in the clouds. It's amazing.
I will say that the first/main steep section of Runyon Canyon tends to have me breathless for a few minutes, but it's only about 0.5 miles in length before you're back to "normal hiking levels". The trailhead is located in the heart of Hollywood, making it easily accessible for both locals and visitors.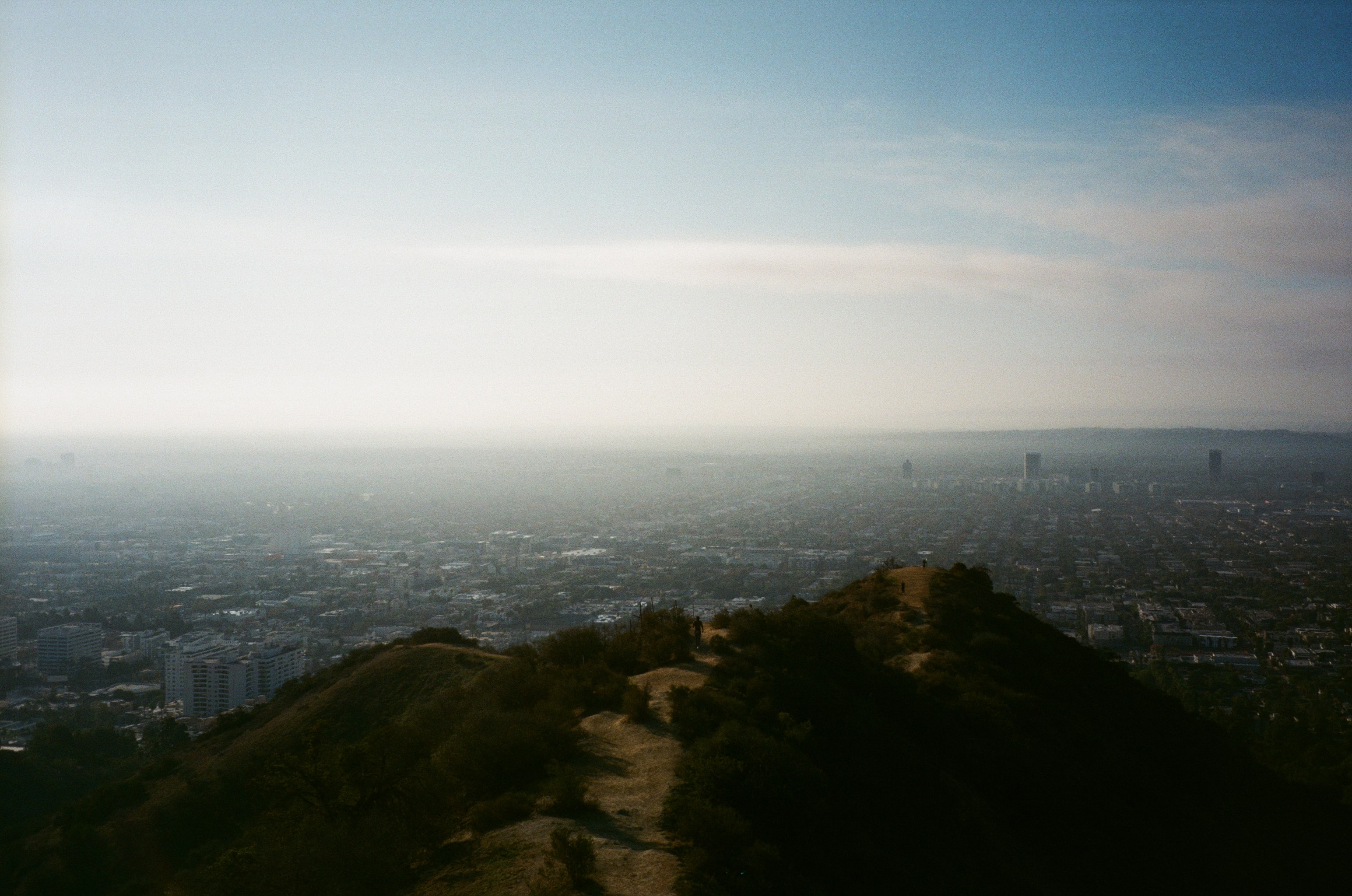 Once you reach the top, the views of Runyon Canyon Park are nothing short of breathtaking. From this scenic viewpoint, you'll enjoy full panoramic views of downtown LA, including famous L.A. landmarks like the Griffith Observatory and Universal Studios.
The Runyon Canyon trail also passes by a few small ponds and waterfalls during the spring when snowmelt from higher elevations creates seasonal streams through Santa Monica Mountains National Recreational Area (SMNRA). This doesn't happen all the time though since LA tends to be on the dry side year-round, but it's absolutely amazing when the streams show face.
Of course, we're talking about LA here, a city filled with celebrities. So as you can imagine, Runyon Canyon Park is also a popular spot for people-watching, as it's a popular destination for both locals and visitors. You'll see a wide variety of passersby including dedicated hikers, casual walkers and gossipers, and even celebrities. A quick tip: celebrities tend to hike Runyon Canyon in the early morning or near the end of the day, or whenever Runyon Canyon Park is not very busy.
Whether you're a local or just visiting, you can definitely expect to meet and see some interesting people on the trail. Runyon Canyon Park offers a fun hike with an amazing view that can be completed in 1-2 hours. Bonus: Runyon Canyon is a dog park in itself, so your furry friends are more than welcome!
Parking
Runyon Canyon Park Parking Address: 2000 N Fuller Ave, Los Angeles, CA 90046
The main trailhead for Runyon Canyon Park can be found at the end of Fuller Ave. Because of Runyon Canyon's popularity, finding street parking can be challenging on weekends. However, you can also find street parking available along Fuller Ave, the Runyon Canyon north entrance, and the surrounding neighborhood. There are also paid parking lots in the area, but these fill up quickly on weekends. I highly recommend getting there early or opting for a weekday visit to secure street parking.
Hollywood Sign Trail
Let's be honest: LA wouldn't be what it is without Hollywood, and Hollywood wouldn't be Hollywood without the timeless Hollywood sign itself.
The Hollywood Sign hike is one of those bucket list hikes that absolutely must do at least once in your life.
The Hollywood Sign hike provides a gradual and enjoyable ascent to the summit of Mount Lee. It offers some of the best views of downtown LA, Griffith Park, the Observatory, and, of course, the iconic sign itself! When it comes to options, you have plenty as far as routes go.
Some of the most popular hike options to the Hollywood sign include Hollyridge Trail, Mount Hollywood Trail, Cahuenga Peak Trail, Griffith Observatory hiking trail, Brush Canyon Trail, and more. While they're all amazing hikes in their own ways, one of the most popular hiking trails to the Hollywood Sign is Hollyridge Trail.
Hollyridge Trail is a very popular route because it gives arguably some of the best views of the city as well as the sign along the way. Due to its popularity, it can get pretty crowded, so you may want to choose one of the other hiking trails if you're really short on time or want to snap that perfect photo of the sign without a hoard of excited hikers blocking the view.
The trailhead begins at the end of Canyon Drive at the end of Brush (commonly called Bronson) Canyon. From the Gower exit of the 101, head north to Franklin Avenue and head east for five short blocks. Turn left on Canyon Drive (past the Gelson's market) and follow until the road ends. This hike offers a trail split, allowing you to take a shorter route for a front view of the sign, or a longer route up for a view of the sign from directly behind it.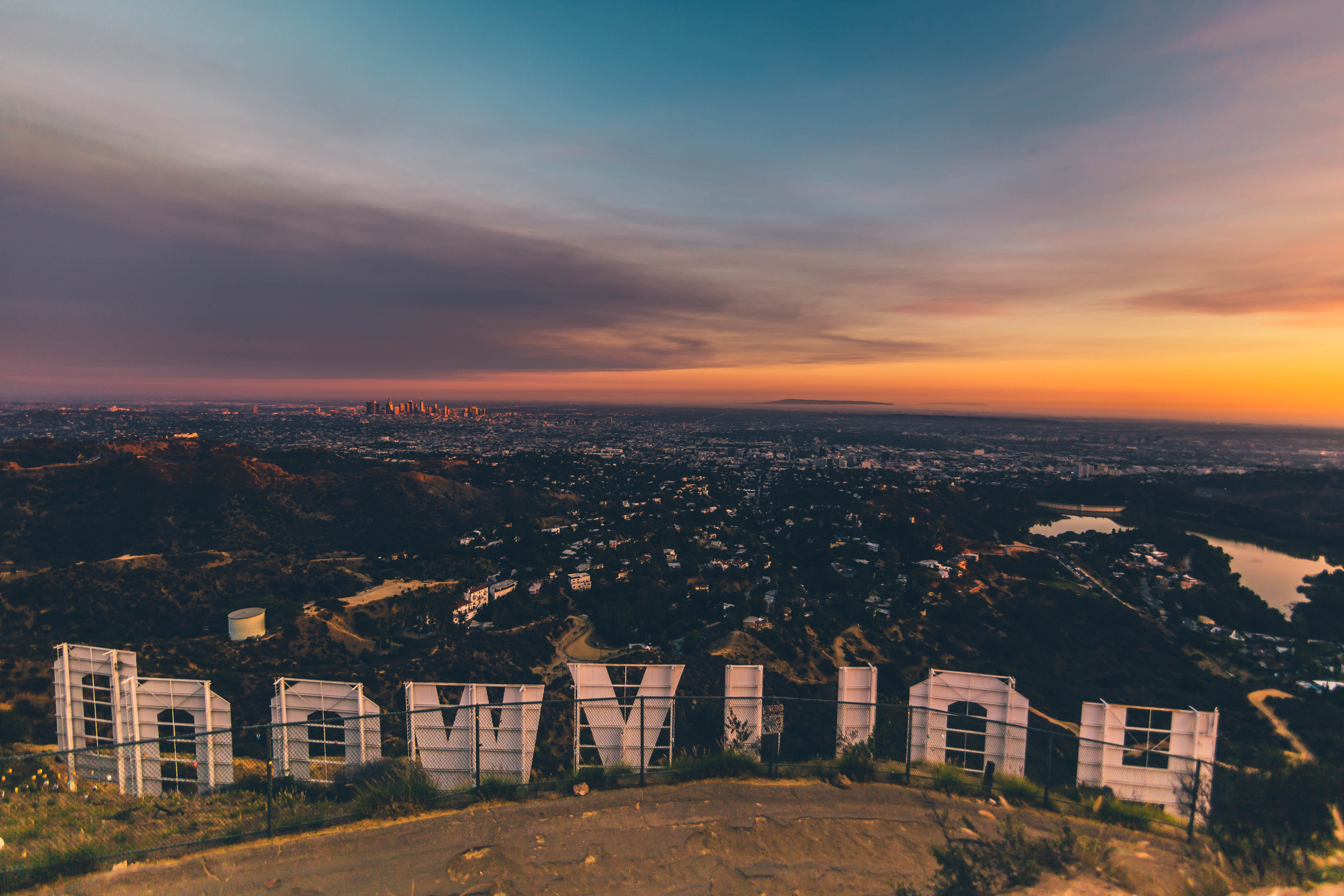 This Hollywood Sign trail is a bit longer than Runyon Canyon depending on which of the trail options you take, but it is rated as easy due to its relatively flat terrain. This makes it perfect for a leisurely fitness walk with plenty of photo ops along the way.
One of the best times to hike the Hollywood Sign trail is in the early morning when the light is soft, the heat is tolerable, and the trail is much less crowded. During this time, hikers may also have the opportunity to spot some local wildlife, including deer, coyotes, birds, and other small animals.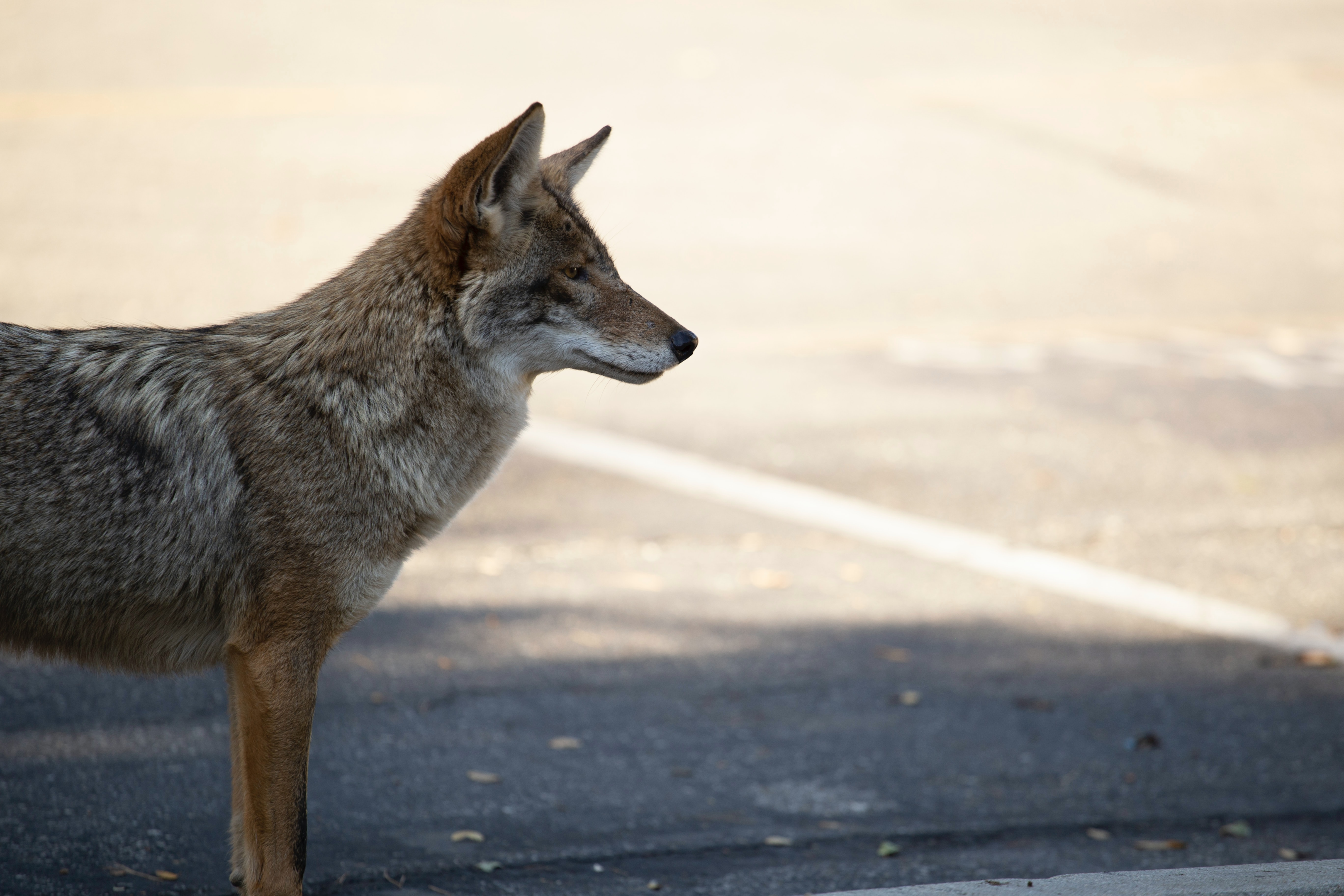 The Hollywood Sign park is dog-friendly, so just be sure to avoid near encounters with coyotes if you're bringing small pets with you.
The Hollywood Sign Trail is a great option for those who are looking for a more relaxed and less challenging hike that still comes with some great views. The trail is surrounded by lush greenery (especially after some rain) and views of the Hollywood Hills. It's easily one of my favorite peaceful escapes from the hustle and bustle of city living.
Parking
Hollywood Sign Hike Parking Address: 3200 Canyon Dr, Los Angeles, CA, 90068
First things first, I highly recommend doing the Hollywood Sign hike as early as you can as it gets very crowded on most days. Free parking is available. You can park along the sides of the street as you come up toward the parking lot address, or you can try to find an available parking space in the parking lot located further up along the road past the gate.
There has been a lot of confusion around how to get to the Hollywood Sign hike for some reason, so it's important to note: the Sunset Ranch and Beechwood Drive hike entrances are no longer open.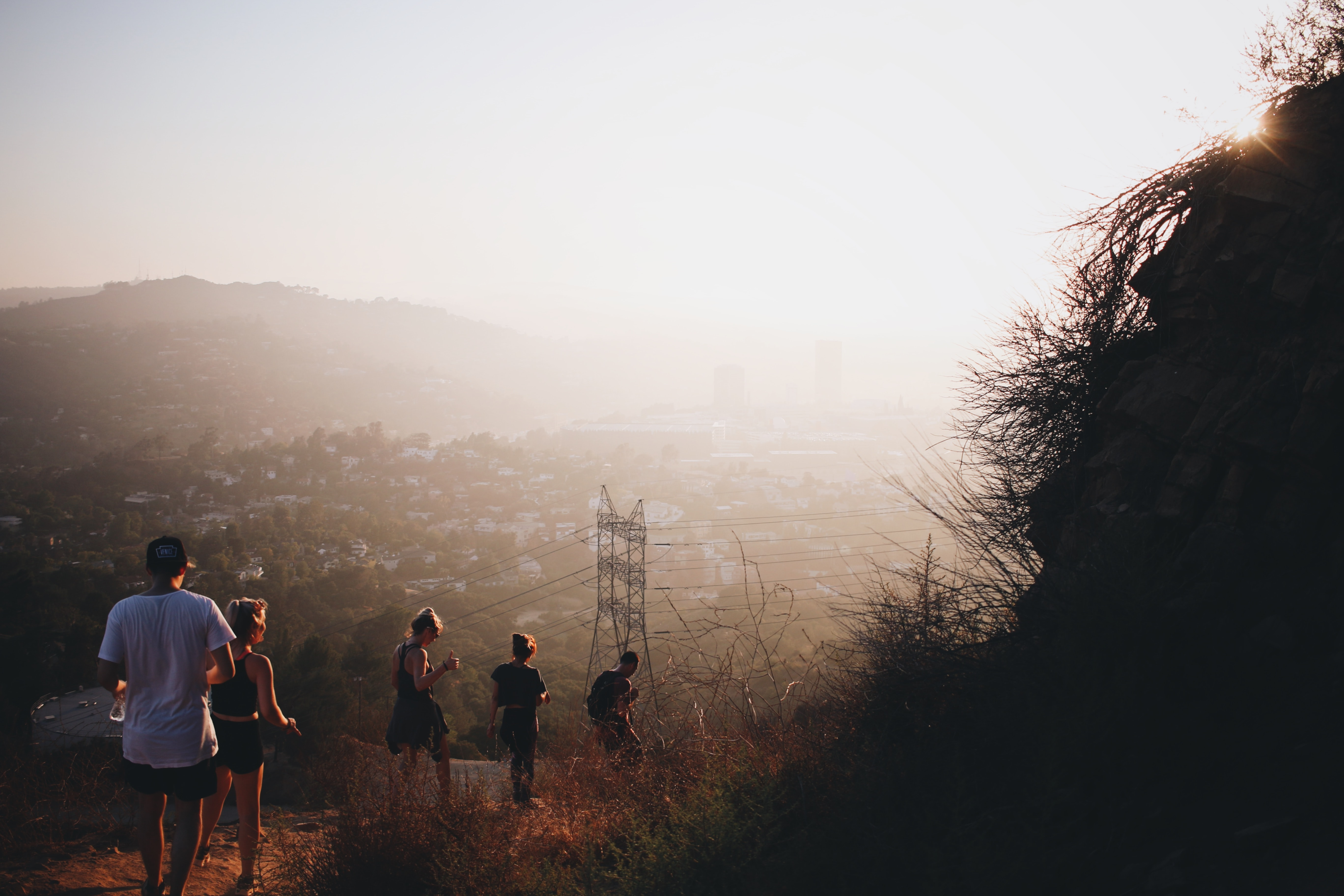 Hollywood Sign Hike vs. Runyon Canyon Park: Which Will You Choose?
When it comes to deciding between the Runyon Canyon Park and Hollywood Sign hiking trails, it ultimately comes down to what you're wanting in a hike. Both trails offer amazing views without a huge amount of effort, but each trail is different in its challenges and offerings.
If you're looking for a more strenuous hike with steep inclines and declines, then the Runyon Canyon trail may be the best option for you. If you're wanting an easier hike that doesn't involve too many steep climbs and provides many photo opportunities, then you can't go wrong with the Hollywood Sign Hike.
Either way, you truly can't go wrong with either of these two trails as they both have something for everyone. So, put on your hiking shoes, pack some trail mix, grab a water bottle or two, and hit one of these trails in LA! With so much to see and experience, you're bound to have an unforgettable time in this beautiful city.