The 6 Best Digital Nomad Backpacks: A Complete Guide
If you're a digital nomad in the market for the perfect backpack, look no further. This guide to best digital nomad backpacks was written by digital nomads like yourself and is vetted for quality, functionality, and fashionability.
As a nomad, you don't want to settle for any old backpack that's hanging by a thread and barely fits your gear. Instead, opt for travel bags that are functional yet fashionable, large enough to carry basically your entire life in it but small enough to be convenient.
Trust me- I've had to go through my fair share of backpacks and duffel bags before finally finding the best travel backpack for my needs. Spoiler: my personal go-to travel pack is the Nomatic Travel Pack 30L.
Digital nomads like yourself need a backpack and all the right remote work accessories that keep up with their wanderlust and all the wear and tear that comes along with it, especially as they explore new destinations. But with so many options available on the web, it can be hard to find the ideal backpack for your specific needs.
However, by considering your individual needs in terms of size, features, and style, you can find the perfect nomad backpack for your amazing nomadic lifestyle. Before we hop into the best backpack for digital nomads, let's go over some key features to consider.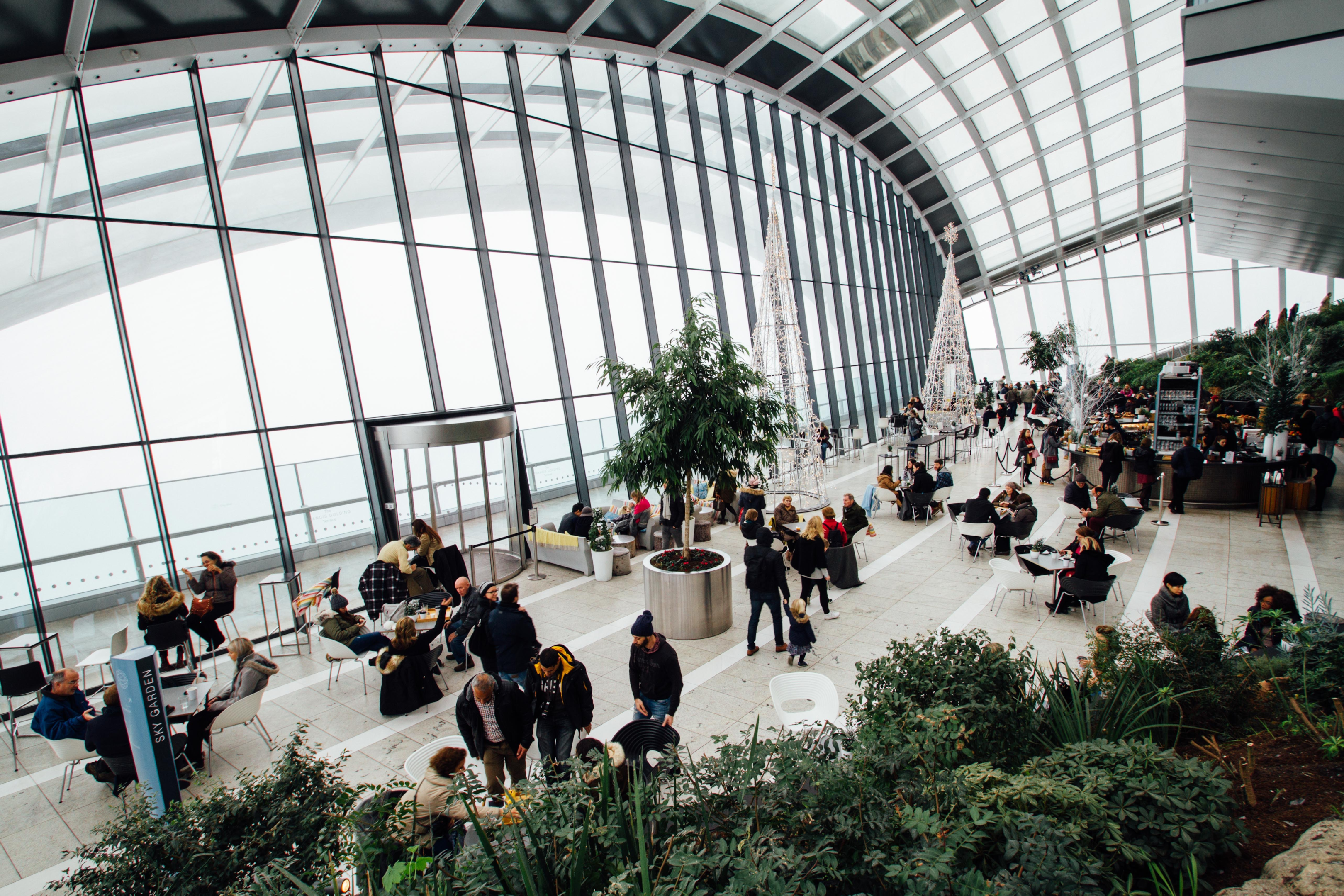 Best Digital Nomad Backpack Considerations
Here are a few features you should consider as you search for the perfect backpack for digital nomads:
The Size & Weight
Especially since digital nomads tend to carry most of what they own in their backpacks, it's important to choose a bag that's large enough to fit all of your digital nomad gear. At the same time, you don't want a bag that's too large and becomes such a burden on travels.
This is why I personally love and swear by the 30L Nomatic Travel Pack: It's not too big, not too small, but just right. I had a 75L before this bag and it was such a hassle to deal with because it was way too large for my specific needs.
Quality of the Material
Quality over quantity is the best rule of thumb for a digital nomad backpack, especially since your bag is going to be your travel buddy pretty much everywhere you go. Sure, it might seem like a good idea at the time to buy a cheap duffle bag from Ross, but you'll be sorry you did when your bag rips randomly as you're rushing through the airport.
It's no fun- trust me, I know.
Instead, it's always a much better idea to invest in the right backpack that's made of durable materials (such as water-resistant material if you can find it). It might cost a bit more upfront, but you'll have a reliable travel bag that goes everywhere you travel to and lives to tell the tale.
A Dedicated Laptop Compartment
Since digital nomads make a living from their phones and/or laptops, you'll likely be best suited with a backpack that provides a laptop compartment that keeps your laptop secure and safe.
You'll also want to make sure that you have enough storage space to keep all of your other gear organized, such as your camera, chargers, snacks, and maybe even an extra pair of flip-flops.
Optimal Security
Let's face it- some places are going to be safer than others, so you'll want to make sure that you're decreasing your chances of theft while on the go. With this in mind, it may be a good idea to look into travel backpacks that come equipped with lockable zippers and cut-resistant material to keep your laptop, phone, and other electronic devices safe and secure.
Affordable Price Point
In many cases in life, it's great to save money and find the cheapest options possible. When it comes to finding the best backpack for digital nomads for your needs, this is not the case.
You don't have to splurge and opt for the most expensive backpack available on the market, but it's important to go for a bag that's going to be durable while serving all of your needs. Opting for an ideal bag is truly an investment that will serve you well for many years down the line.
Without further ado, let's take a look at the top five best nomad backpack options. These are some of the finest backpacks for traveling nomads that'll make you the envy of all your pen pals, without sacrificing durability and functionality.
Best Backpacks for Digital Nomads: Essential Gear for the Modern Nomad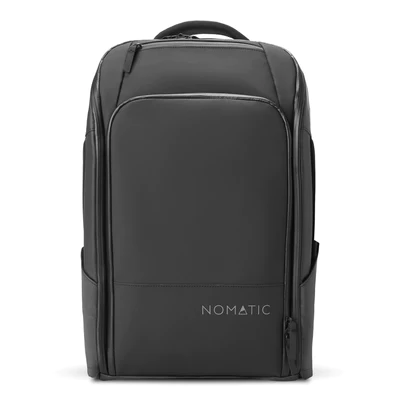 Volume: 30L
Price: $299.99
Weight: 4 lbs
You really can't go wrong with a Nomatic backpack. I've already been mentioning this bag, and for good reason: the 30L Nomatic Travel Pack is easily the best backpack for digital nomads you can find available on the market today. I've had mine for quite some time now, and it's still just about as good as new.
It's truly a very compact backpack that's both functional and versatile and looks very sleek. Here are some of the features this bag provides:
Durable, water-resistant fabric
Easy access full perimeter zipper for a full view of your belongings
Expandable by up to 50% for more space when you need it
Lockable YKK zippers (best industry quality)
20 zipper pockets, mesh pockets, and a lockable security pocket
Laptop compartment with padded laptop sleeve (TSA-approved)
Retractable key leash
Reflective ink on the outside of the bag
Cord pass-through holes for easy access to juice for your electronics
Roller bag sleeve to mount on your carry-on luggage if you have multiple bags
Waterbottle pockets
and more.
I have a Macbook 15″, a Sony a6500, and all the cords, clothes, and small random items you can think of, which all fit great in this bag. One of my personal favorite things is that the Nomatic Travel Pack 30L provides easy access to my laptop and other electronics when I'm going through TSA.
Such a time saver. Many travelers, myself included, consider this one of the best digital nomad backpacks around due to its durability, size, features, security, and everything in between.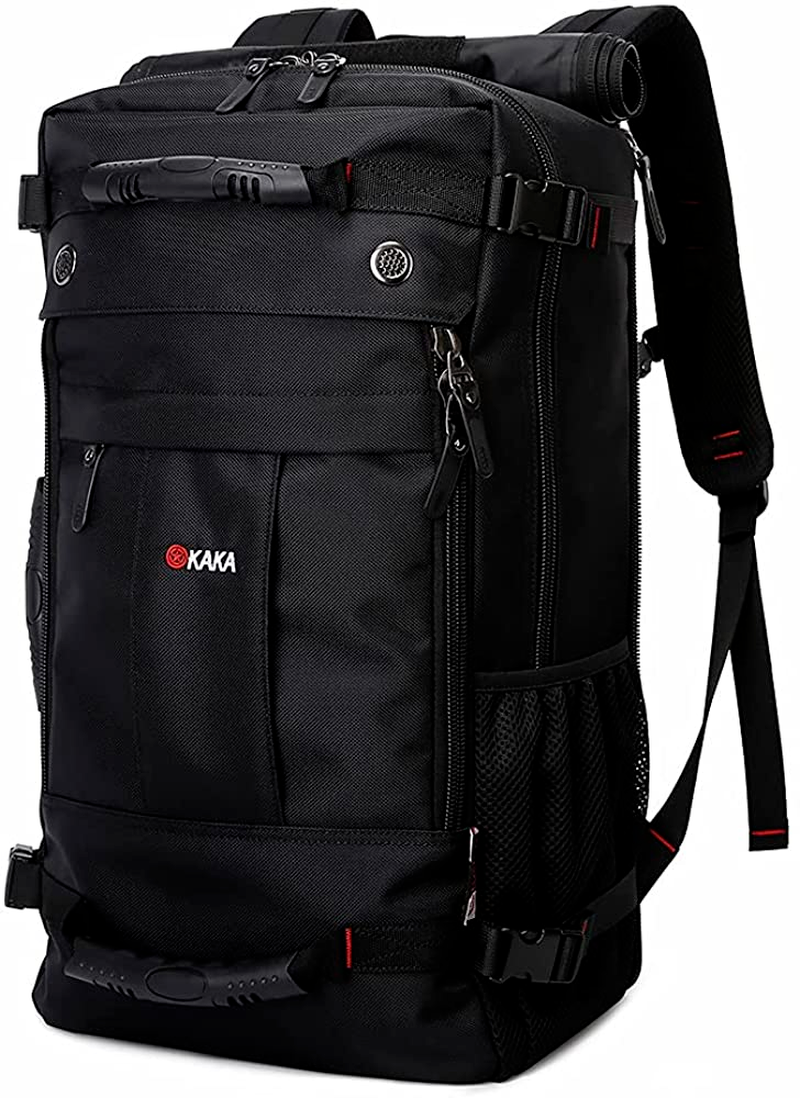 Volume: 35L
Price: $59.99
Weight: 4.2 lbs
If you're someone who just so happens to love duffel bags, then this bag is one of the best you can find.
What's great about this bag is that it is truly multifunctional compared to other bags and serves many needs that a digital nomad tends to have, whether you're looking for an all-purpose travel pack, a hiking backpack, a bag with shoulder straps, a carry-on, etc. Its only downfall is that it doesn't have a laptop sleeve, but that may not be a priority for you if you're working from your phone.
Let's take a look at the KAKA travel backpack's best features:
Made of terylene oxford fabric (known for extreme durability and being water resistant)
Flight-friendly carry-on size
Anti-theft lockable zippers
Padded shoulder straps and backpack straps for versatility
Mesh stuffer pocket, a front zipper pocket, a shoe compartment, and many more storage options to bring your extra gear
Padded straps (waist strap, hip belt, and chest strap for better support)
Several color options to choose from (blue, green, and black)
35L and 40L size options for more flexibility
Another great thing about the KAKA duffel bag is that it comes at a very affordable price point of $59.99 at the time of writing this article. While it doesn't have a laptop pocket, many of my budget-conscious nomad friends swear by this backpack and even take it on their outdoor adventures. It's truly a very practical backpack for just about every scenario you can think of- you won't find a cooler bag around.
Volume: 35L-42L (expandable)
Price: $399.99
Weight: 9.78 lbs
Yet another Nomatic backpack, this option is the best digital nomad backpack for photographers at heart.
What happens when you have a meeting of the minds between one of the best travel photographers in the game and one of the elite nomad backpack companies? The Nomatic McKinnon Travel Pack is born!
As a travel photography enthusiast myself and a big fan of both McKinnon and Nomatic, I snagged one of these bags as soon as they were available.
And let me tell you, it is seriously a game changer for digital nomad photographers looking for an everyday bag to bring all their camera gear along with them. Carrying a backpack for my personal belongings and a separate travel bag for my camera was rough before I found this gem. Let's look a the specs:
35L, easily expandable to 42L
Flight-approved carry-on size
Dedicated storage for all of your camera equipment
Side pocket for quick access to grab your camera when you need it fast
Dedicated compartments with a main compartment for clothing and other personal items
Fully customizable folding dividers to customize your equipment fit
Water-resistant material to protect your camera and belongings
Optional waist straps for extra security and support
Padded shoulder straps
Dedicated laptop pocket with padded laptop sleeve (fits up to 16″ laptops)
External side mesh pockets with compression straps for your tripod, water bottle, etc.
Easy access pocket for your wallet, passport, and/or phone
This is my second-favorite nomad backpack on this list, and I swap it out with my Nomatic 30L whenever I'm planning to take all of my gear to new destinations. All in all, the Nomatic backpack is a very practical bag that fits all of my camera equipment with ease.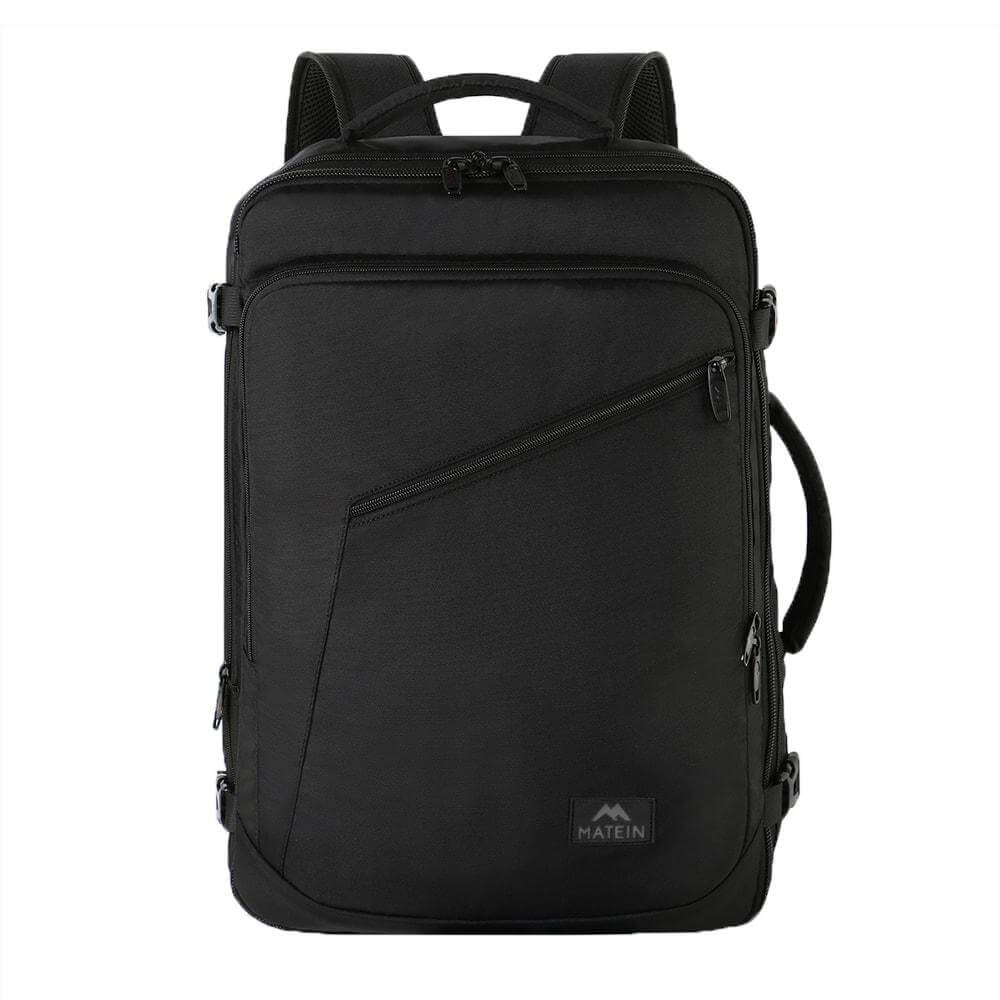 Volume: 40L
Price: $39.99
Weight: 2.4 lbs
The Matein Carry On Bag is a great budget backpack for digital nomads, especially if you're just looking for something affordable that will handle light wear and tear. Its sizing is flight-approved so you don't have to worry about unexpected checked bag fees at boarding, and it can be held as a nomadic backpack or a side carry on bag.
Here's a breakdown of its features:
Expandable backpack for larger capacity
Flight-approved carry on size
Convertible design with a hideaway hip belt, shoulder straps, and sternum straps for side carry
4 external compression straps to keep your gear secure in place as you travel
Large main compartment to hold more items
Dedicated laptop sleeve and/or tablet compartment
Water resistant material
Front organizer pockets for your phone, wallet, etc.
Strong zipper closures for secure packing of your belongings
All in all, if you're tight on budget but need something versatile and worthwhile, the Matein Carry On is one of the best options you can find, as long as you don't have any heavy weight needs.
Volume: 65L
Price: $187.99
Weight: 3.5 lbs
When you see someone at the airport with an Osprey backpack, you can assume a few things. He/She: 1. Has a lot of stuff, 2. Loves being outdoors, and/or 3. Is very deep into the digital nomad lifestyle.
Osprey backpacks are amazing for digital nomads, especially for hikers and long-term travelers. This 65L Rook option will give you all the comfort, storage, security, and durability you'd need.
The only potential concern you may run into is the size- it may exceed the carry-on size restrictions of some airlines. But if you absolutely need the space but don't want to opt for roll-around digital nomad luggage, this Osprey bag is a sure bet.
Here's a rundown of the features:
65L capacity to carry everything you need and more
Main compartment along with extra pockets for packing flexibility
Tall space available for packing long items (such as a yoga mat)
Yoga mat strap
Very comfortable ventilated back panel to avoid discomfort (back sweat)
Removable rain cover to protect your gear
Separate sleeping bag compartment
Dual-zippered hip belt pockets and side mesh bottle pockets for quick access when you're on the go
Attachment points for adding a detachable daypack (sold separately)
If you're an outdoorsy type of nomad or on the go for long stretches, this truly is a peak-design travel backpack that will cover all your bases whether you're backpacking around Europe or hitting a days-long hike.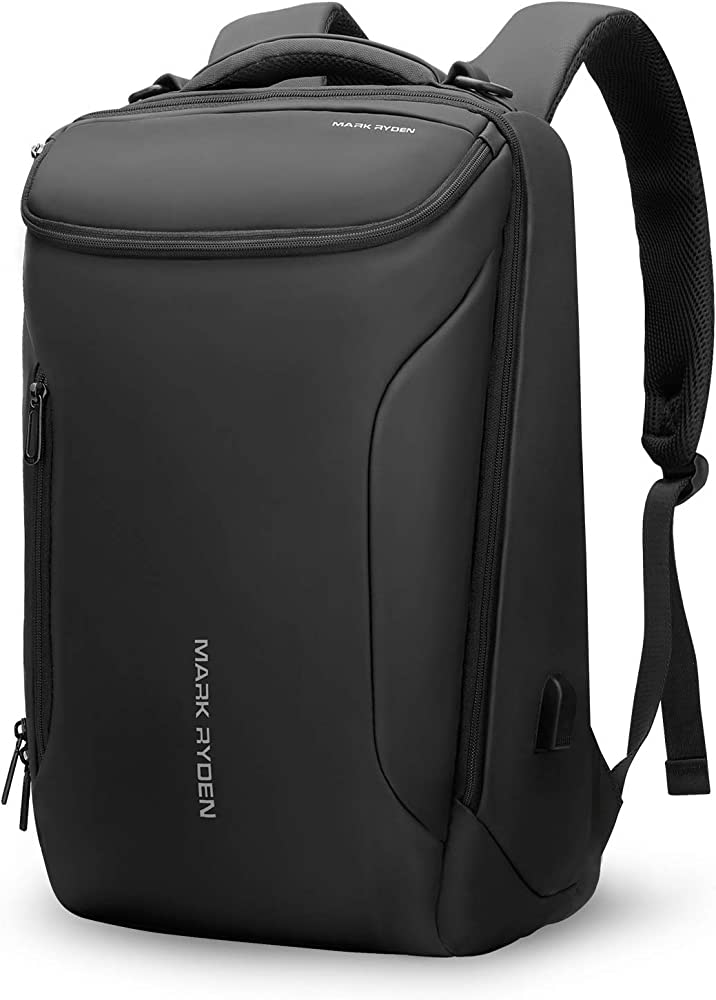 Volume: 35L
Price: $68.99
Weight: 2.4 lbs
Due to its affordability and quality, many find this to be the ideal digital nomad backpack for business-related travel.
Sometimes you're a digital nomad not by choice, but due to the nature of your business. I have many friends in sales who seem to be traveling abroad just about every other week for consultation appointments to meet with prospects.
I did this for some time around the U.S. as a traveling salesman as well. A fun experience, but the duffel bag I had was not convenient in the slightest. Imagine trying to pack your laptop in that- it was the bane of my existence.
If I had this awesome nomad backpack, which really is more of a laptop backpack designed for business, it would've been smooth sailing. Here's a rundown of the bag:
Waterproof material to protect your laptop and other electronics
Lockable YKK zippers with durable fabric and waterproof stitching
External USB port to charge your phone on the go
Flight-approved size
Front tablet pocket, main compartment, laptop sleeve, and front pocket for shoes
Holds up to a 17″ laptop
Semi-hard shell design to further protect your belongings
Whether you're a businessperson or just one of those folks who carry around a lot of valuable electronics, this is a proper backpack that will serve you well along the way.
Which of These Digital Nomad Backpacks Fits Best?
There you have it. The round-up of the best digital nomad backpacks you can find includes:
These are all amazing choices for digital nomads. Each bag offers spacious compartments, stylish design, multiple pockets, and durable construction, ensuring that your travel gear stays protected and organized no matter where you end up in the world.
When it comes to choosing the right backpack for digital nomads, it's important to consider your personal needs and preferences. Some nomads may want a backpack for ease of use and quick access on the go, while others may prefer a duffle bag or Osprey-style bag with more space.
Just remember, while a member of the glorious digital nomad community, you still have unique needs and preferences, so choose wisely. No matter what your needs are, there is a digital nomad travel bag out there that will meet your specific requirements and help you stay organized and productive on the go.
Wayfare With Pierre contains affiliate links and is a member of the Amazon Services LLC Associates Program. If you make a purchase using one of these Amazon links, I may receive compensation at no extra cost to you.