Things to Know Before Visiting Antigua and Barbuda: A Complete Guide
Last Updated on September 16, 2023
If you're a fan of the Caribbean, then you've probably heard of the fairly new but ridiculously beautiful country: Antigua and Barbuda.
Antigua and Barbuda are two beautiful islands perfectly situated in the Caribbean Sea, part of the Leeward Islands in the West Indies. The independent country is made up of two main islands, Antigua and Barbuda, and a few smaller neighboring islands.
The islands are known for their crazy beautiful beaches, crystal clear waters, lush green landscapes, delicious local cuisine, sailing week experiences, and much more.
Since its independence from Britain and official formation in 1981, the country has become a very popular tourist destination, offering visitors a wide range of fun activities and unique experiences to explore. If you're planning on visiting Antigua and Barbuda, there are a few things you need to know before you set out on your trip. After all, you don't want to find yourself lost and on a trip with no sense of direction!
In this article, we'll cover just about everything you need to know: the best time to visit, where to find the best beaches, where the best seafood is, and beyond. Let's dive in!
Antigua and Barbuda: A Brief History
Antigua & Barbuda has an interesting history dating back centuries and is a must-see, especially for those of you who are interested in exploring the Caribbean's rich cultural heritage. The islands of Antigua & Barbuda were first discovered by Christopher Columbus in 1493, but it wasn't until 1632 that the British colonized the area, using it as a hub for the lucrative sugar industry.
The country gained its independence from Britain very recently in 1981, and since then has made significant strides towards economic growth, mostly due to the thriving Antigua tourism industry (you're helping them grow when you visit!). Today, the country is a popular destination for travelers looking to soak up the sun, enjoy the warmness of the locals, see local life, and experience the unique blend of cultures that make up Antigua & Barbuda.
As you explore the islands, you'll definitely notice the strong influence of the country's colonial past. From the charming cobblestone streets of the capital city, St. John's, to the amazing architecture of landmarks like the Nelson's Dockyard, a restored 18th-century naval dockyard, and the Betty's Hope sugar plantation that has been transformed into a museum, there is truly so much to see and experience in exploring Antigua, & Barbuda.
What to Expect in Antigua and Barbuda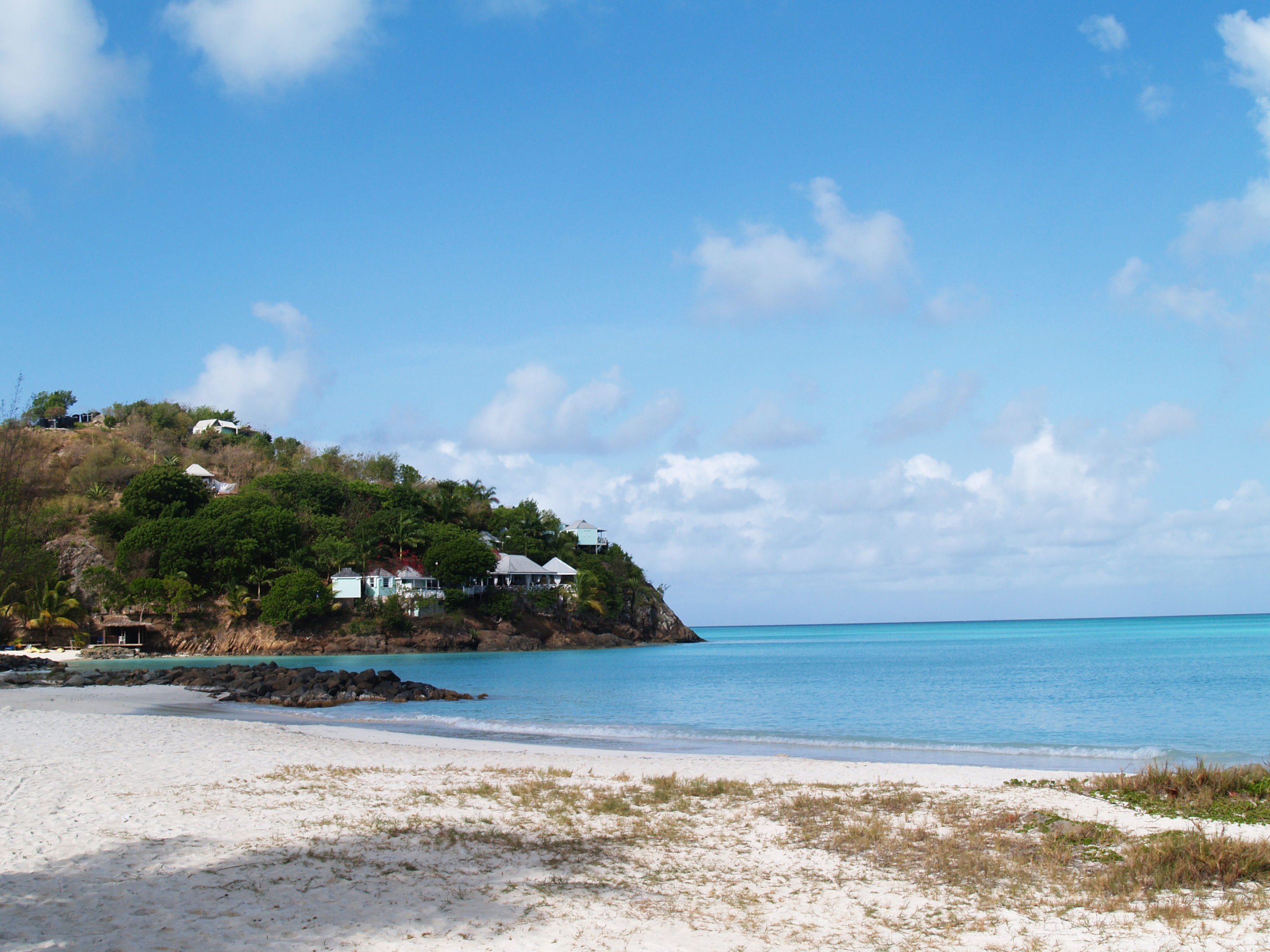 Paradise. If we had to sum it up in one word, paradise is what to expect when you visit this beautiful country. But in all seriousness, Antigua & Barbuda is a beautiful island known for so many things including its beautiful beaches, crystal-clear turquoise waters, vibrant culture, amazing cuisine, and more.
It's also known for its many all-inclusive resort offerings, all of which come with just about everything you'd need to make your vacation amazing.
The islands also offer visitors a bunch of activities to choose from, regardless of whether you're wanting to get active or prefer to relax and unwind. For action lovers, some great options include scuba diving, sailing, swimming, hiking through the rainforests in Barbuda, and exploring the local wildlife. If you're wanting to relax and kick your feet up, you can lounge at the beach, go for a food tour, enjoy a sunset cruise, get a massage, or even enjoy a few poolside cocktails at your resort's pool/beach.
The official language is English, and the official currency used is the Eastern Caribbean dollar. Most hotels and restaurants do accept US dollars since tourism is so frequent, but it's always a good idea to have some local currency on hand.
Visiting Antigua & Barbuda: Best Travel Tips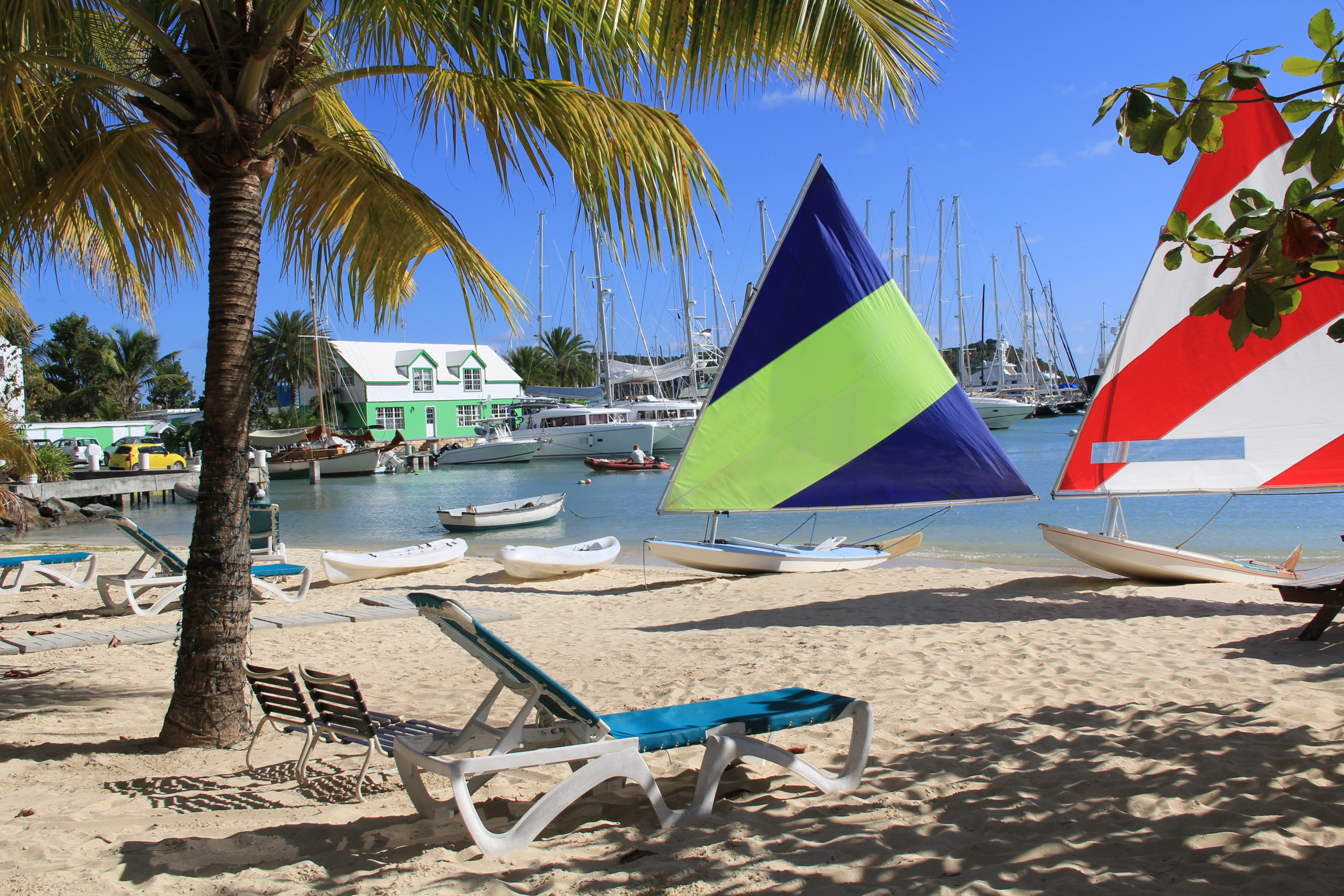 If you're planning to take a trip to Antigua (and Barbuda), here are a few things you should keep in mind to make sure that you have a smooth and enjoyable trip:
Best Time to Visit Antigua & Barbuda
Although you'll honestly be just fine visiting at any time of the year, the best time to visit Antigua & Barbuda is easily the dry season, which is between mid-December and mid-April.
During this time, the weather in Antigua is at its peak, while the risk of hurricanes is at its lowest. As far as the weather goes it's warm and sunny, and the water is clear and calm.
However, keep in mind that this is the peak tourist season, so expect higher prices and larger crowds. If you want to avoid the crowds and get better deals, you can plan your visit for the shoulder season, which is roughly from April to May and November to December.
Hurricane season in Antigua and Barbuda runs from June to November. While hurricanes are not a common occurrence, it's always a good idea to check the weather forecast before you travel.
Getting to Antigua & Barbuda Island
As a very small island, Antigua's main and only airport is the V.C. Bird International Airport, which is located in St. John's. The airport serves several airlines, including American Airlines, Delta, and British Airways.
If you're wanting to search for a flight based on the cheapest month and dates, Skyscanner is the industry standard that lets you filter based on the Cheapest Month. It's perfect for people who have some flexibility in their schedules.
Once you're in Antigua and want to travel to/from the neighbouring islands, including Barbuda, there are several ferry services that operate to and from Antigua. One of the most popular options is the Barbuda Express, but the other ferries in the area are good as well.
Accommodations in Antigua & Barbuda
Antigua (and Barbuda) has a huge number of accommodation options, from all-inclusive resorts to boutique hotels to budget options, and everything in between.
Some popular options include the Verandah Resort and Spa, Half Moon Bay Resort, and the Royalton Antigua. These stays are truly all-inclusive and will provide you with just about everything you need without ever having to leave the resort grounds.
However, if you're looking for a more authentic experience, you might want to consider staying in a guesthouse, an Airbnb, or a local bed and breakfast!
For accommodations, we recommend checking out Skyscanner. This platform lets you search for hotels and flights and shows you the cheapest months to book. Use the integrated widget below to start your search on-page!
Antigua and Barbuda Currency: Eastern Caribbean Dollar
The currency used in Antigua and Barbuda is the Eastern Caribbean Dollar (EC). However, US dollars are widely accepted, and many places, especially tourist areas, will accept other major currencies such as Canadian dollars and Euros. It is recommended to have some cash on hand, especially when visiting smaller establishments.
What to Pack for Antigua and Barbuda
When visiting Antigua and Barbuda, be sure to pack light, comfortable clothing and beachwear. Remember to bring sunscreen, sunglasses, and a hat to protect yourself from the sun. If you plan to go hiking or exploring, bring sturdy shoes or boots.
Also, don't forget to bring a waterproof camera or a protective case for your phone to snap some pics of all the amazing views!
Best Things to Do in Antigua & Barbuda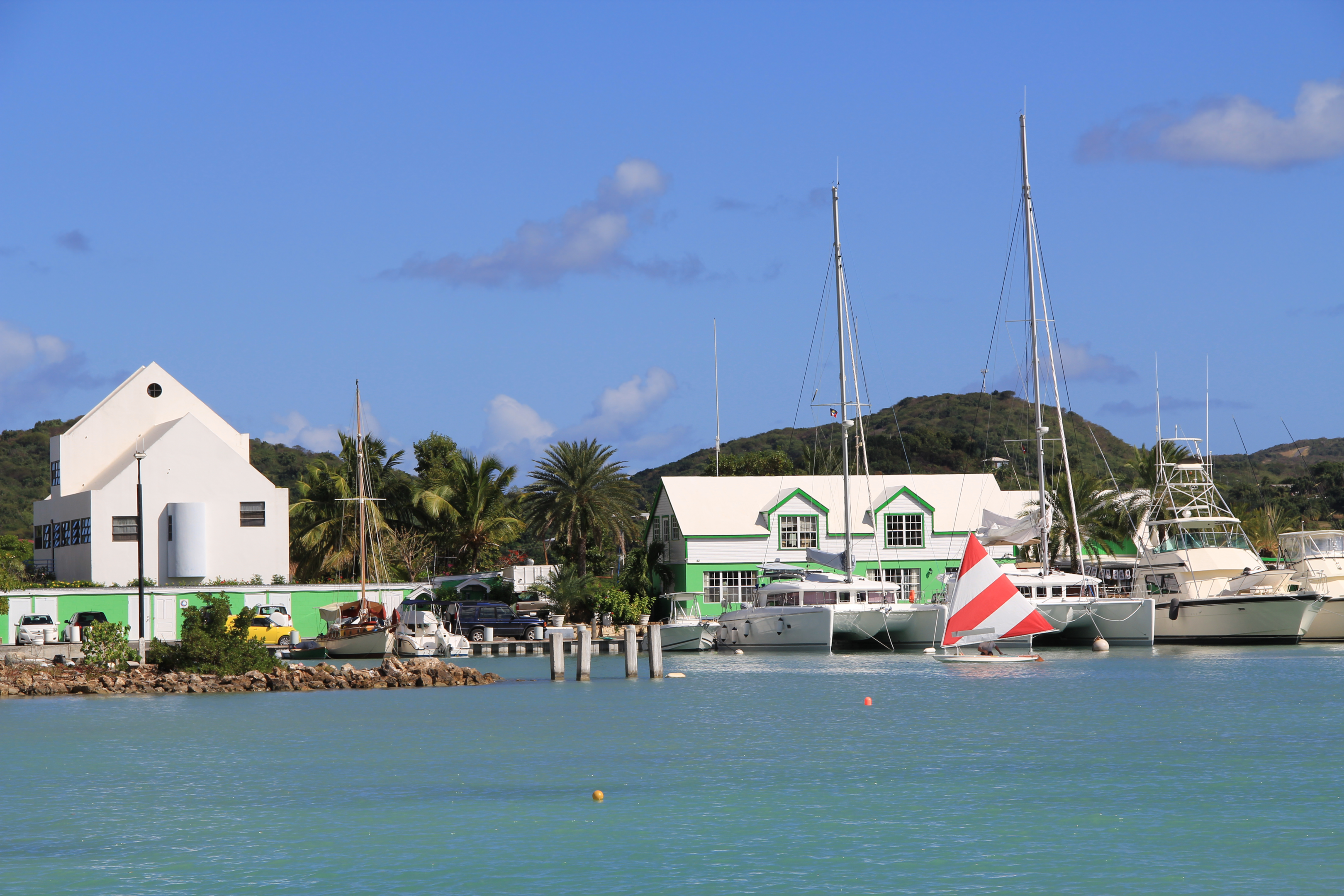 1. Visit Nelson's Dockyard
This historic naval dockyard is a UNESCO World Heritage Site and a must-visit attraction for history buffs.
2. Relax on the Beaches
Antigua has over 365 beaches, so you're bound to find one that fits your tastes. Some of the most popular beaches include Pigeon Point Beach, Jolly Beach, Half Moon Bay, Dickenson Bay, and Princess Diana Beach (an absolutely beautiful beach and one of my favorites!).
3. Explore the Rainforest
Barbuda is home to the largest frigate bird sanctuary in the world, as well as lush rainforests that are perfect for hiking and birdwatching.
4. Go Snorkeling or Scuba Diving
The crystal-clear waters surrounding Antigua and Barbuda are teeming with marine life, mostly sea turtles and fish, making it a prime destination for snorkeling and scuba diving.
5. Take a Day Trip to Barbuda
The small island of Barbuda is just a short boat ride away from Antigua and is home to some of the most secluded and unspoiled beaches in the Caribbean. After all, if you don't visit Barbuda, can you really say that you've been to Antigua and Barbuda?
6. Go Sailing
With its calm waters and reliable trade winds, Antigua is a prime destination for sailing enthusiasts. Visitors can rent a sailboat or catamaran, or join a guided tour.
If you really want to dive into the sailing world, be sure to visit during Antigua Sailing Week in April/May! The ocean is filled with sailing boats from all around the world during this time, and you can enjoy fun activities, partying, and of course, sailing.
7. Visit Shirley Heights
This historic military lookout offers stunning views of English Harbour and the surrounding area, especially during sunset.
8. Explore the Local Markets
Antigua and Barbuda are known for their vibrant local markets, where visitors can sample local cuisine and purchase handmade crafts and souvenirs. Most vendors will accept the US dollar as well.
9. Take a Zip Line Tour
Antigua's zip line tours offer a unique perspective on the island's lush rainforests and breathtaking coastline.
10. Go Fishing
The waters surrounding Antigua and Barbuda are home to a variety of fish species, making it a prime destination for sport fishing enthusiasts. Visitors can charter a boat and try their luck at catching tuna, marlin, and other big game fish.
Closing Thoughts: Antigua Travel Tips and Things to Know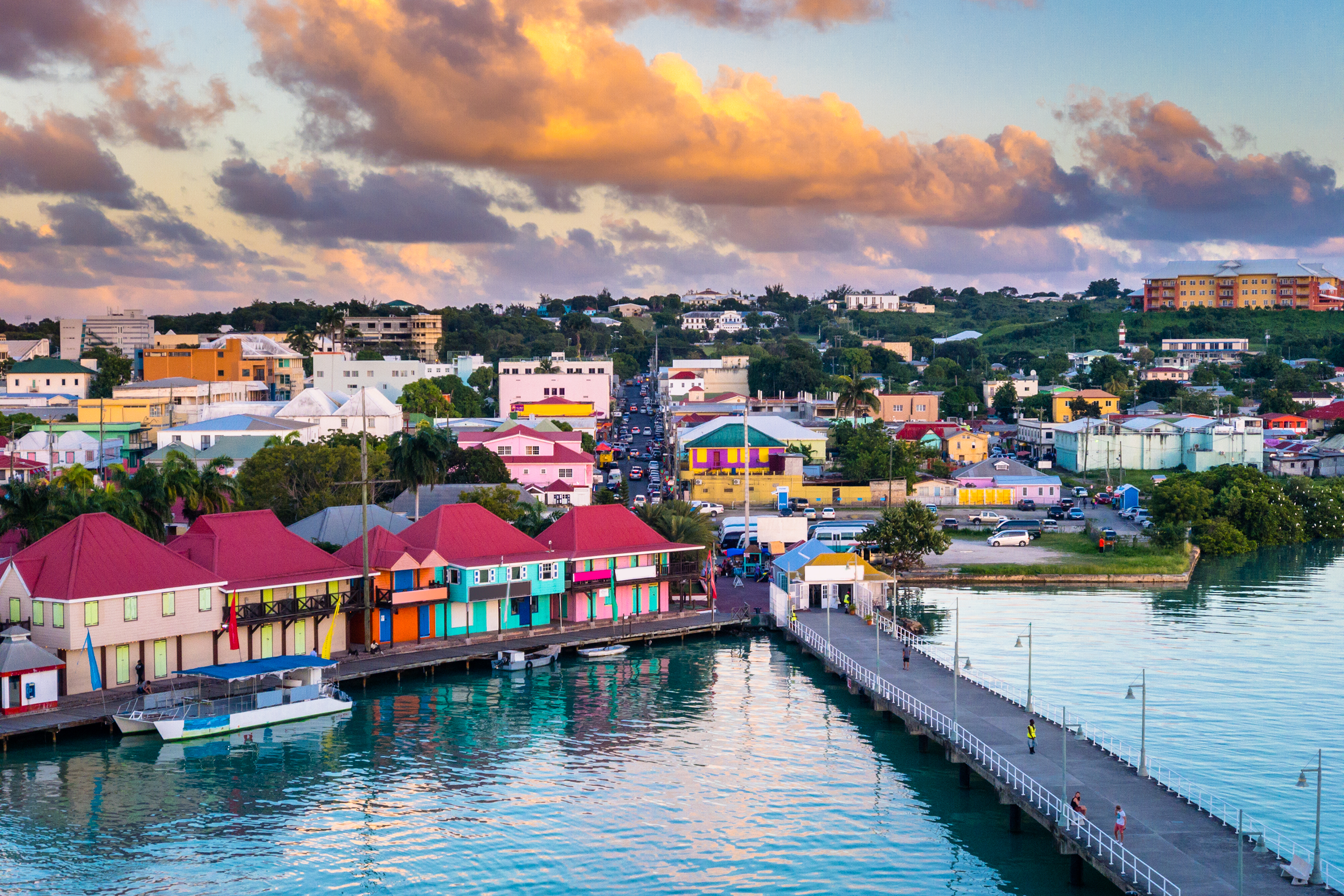 As you can see, Antigua & Barbuda is an amazing travel destination that offers something for just about everyone. From the beautiful beaches and turquoise waters to dense rainforests and vibrant local markets, the islands are a true paradise for all travelers, regardless of how you like to travel.
However, before embarking on your trip, it's important to keep in mind the key tips and pieces of information above to make sure that you have a smooth and enjoyable time.
By following the guidelines outlined in this article, you'll be well-prepared to make the most of your time in the beautiful country of Antigua & Barbuda. Whether you're planning to relax on the beach, take a sailing cruise, explore the rainforest, or sample local cuisine, you're bound to have the time of your life.
Pack your bags, grab your sunscreen and all your travel accessories, and get ready for fun in the sun at Antigua & Barbuda! I didn't regret it, and I know you won't.
*Some links in this post are affiliate links for products and services we personally use and love. Any purchase you make through them supports us at no extra cost to you. Thanks so much!*